Even though our winters are fairly mild in Texas, the fragrance of a slow cooked meal on a dreary January day is heavenly. Veggie-loaded Slow Cooked Osso Bucco is one of those dishes that is easy to prepare and full of slow roasted veggies.
I especially like this Italian inspired meal for a dinner party as you can do the prep work by 11 or so in the morning, and set your slow cooker for dinnertime. I prepare risotto and roasted Brussel-sprouts a day ahead, and just reheat about an hour before dinner is served.
Italians in Texas: By 1920 there were 8000 Italians living in Texas. Most fled the social and economic conditions of Italy. A name you may recognize is noted bootmaker Sam Lucchese.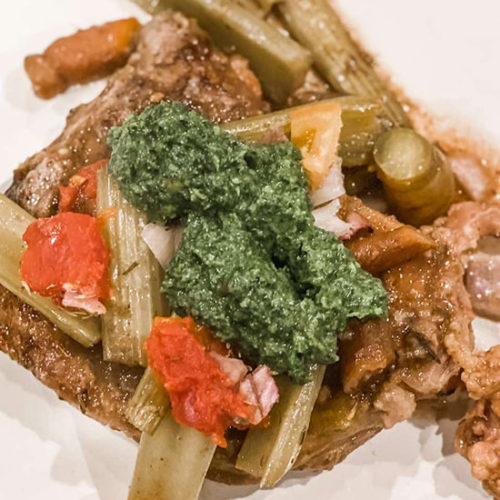 Veggie-loaded, slow-cooked Osso Buco
Ingredients
SLOW COOKED BEEF SHANKS AND VEGGIES
1

cup

all-purpose flour

8

1½- to 2-inch-thick veal shanks (about 5 lbs.)

Kosher salt and freshly-ground black pepper

4

tbsp

unsalted butter

2

cups

dry white wine

1

14½ oz. can of diced tomatoes

5

fresh, chopped Roma tomatoes

1½

cups

chicken broth

2

small red onions, chopped (2-3 cups)

1

bunch

celery, cut into 2-3 inch pieces

10

sprigs

fresh thyme
GREMOLATA TOPPING
½

cup

finely-chopped fresh flat-leaf parsley

2

tbsp

finely-grated lemon zest

Squeezed juice from grated lemons (aprrox. 2 lemons)

1

tbsp

chopped garlic
Instructions
Put the flour in a wide, shallow dish. Season the veal shanks all over with salt and pepper and dredge in the flour; shake off the excess flour.

Heat a 12-inch skillet over medium heat. Add the butter, and when it foams, add the shanks to the skillet. Cook until golden, turning once, about 10 minutes. Transfer the shanks to a slow cooker.

Add the wine to the skillet. Scrape up any browned bits from the bottom of the skillet and pour the contents of the skillet into the slow cooker.

Add the canned tomatoes and their juices, chopped tomatoes, chicken broth, onion, carrot, celery, and thyme. Cover and cook on low heat for 6 to 8 hours—the meat will be very tender and almost falling off the bone.

Transfer the shanks to a platter and cover with foil to keep warm. Pour the sauce from the slow cooker into a large skillet. Simmer over medium heat until reduced to about 2 cups, 10 to 15 minutes. Season to taste with salt and pepper. Transfer to a gravy bowl.

Meanwhile, in a small bowl, combine the parsley, lemon zest, lemon juice, and garlic to make a gremolata. Serve the veal shanks topped with the reduced sauce and the gremolata.
Notes
The traditional recipe calls for only 2 stalks of celery and carrots. I like to load up on healthy veggies and it makes a pretty presentation.
Serve with sides of risotto and roasted Brussel sprouts - which can both be prepared a day ahead.
You can set your slow cooker to be ready an hour or so before the time your guests arrive and turn temperature to keep warm. I used my MIL's hand-me -down cooker (the kind your grandmother cooked her turkey in).