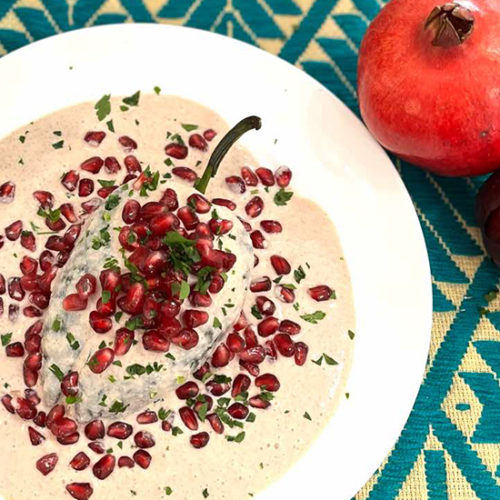 Chiles en Nogada
Ingredients
Base Ingredients
8

medium poblano peppers

1

pomegranate fruit

1

small bunch of finely chopped parsley
Picadillo Ingredients (meat filling)
2

lbs

extra lean ground beef

1

tbsp

canola or vegetable oil

1

red or white onion, finely chopped

3

garlic cloves, finely chopped

5

roma rip tomatoes, blended into a smooth puree

1

clove garlic to blend with tomatoes

1½

cups

water to blend with tomatoes

1

stick

cinnamon

¼

cup

raisins

¼

cup

cranberry raisins

½

cup

dry candied pineapple

¼

cup

fresh, finely chopped apple

¼

cup

chopped bleach almonds

¼

cup

pine nuts

1

tbsp

finely chopped parsley

1

tsp

know chicken bouillon seasoning

½

tsp

marjoram

1

tsp

each salt and pepper

1

tbsp

sugar
Nogada Ingredients (Pecan cream sause)
1½

cup

pecans

1½

cup

water

1

pinch

salt

1

tbsp

sugar

1

cup

heavy cream, creme fraiche, or sour cream
Instructions
Picadillo:
In a large deep skillet, at medium heat, add oil and quickly sauté onion and garlic. Then add ground beef. Cook until done. Drain excess water after done.

Blend to puree ripe tomatoes with water end garlic clove until smooth, using a strainer when adding puree to meat.

When the meat and sauce start changing color to orange, add 1 cinnamon stick.

Continue adding the rest of ingredients, stirring slowly on low heat, letting picadillo cook until all juices are completely absorbed. Season to taste with salt and pepper.

Let picadillo rest completely and cool before stuffing the chiles
Roasted Poblano Peppers:
If you have a gas stove, use tongs to roast the peppers directly over the fire while turning them around the flames. Once the skin starts blistering all around and still hot, wrap the chiles with paper towels and set them inside a large zip lock bag and seal. Let the chiles rest for 10 minutes.

Carefully peel charred skin of chiles in slow running water in your sink.

Make a small incision on the side of each Chile to take out the seeds and veins. Pat and dry chiles.

Stuff chiles carefully with the prepared picadillo and set on a platter.(Note: you may also roast chiles in a 425 F oventurning them over until the skin blisters)
Nogada:
Puree all pecans in a blender with 1 cup of water. Add water little b y little until very smooth. Add sugar and salt.

Add cream with a spoon until well mixed. Refrigerate.
Pomegranate (Seeds)
Carefully cut the top of the fruit, then slice the sides to take the thick skin off. An easy way to collect pomegranate seeds, is to submerge the fruit in cool water. The seeds will float and you can collect and drain.
Preparing to serve:
For an individual serving, set one stuffed poblano pepper in a dinner plate and generously pour creamy nut sauce over all. Add abundant pomegranate seeds and banish with parsley.

To make a casserole style you may arrange all the stuffed chiles in a deep platter, cover totally with creamy nut sauce and pomegranate seeds. Garnish with parsley.
Video
Notes
Chiles en Nogada are generally served at room temperature, but some people like to eat them warm. So, before you serve them, you may only warm the stuffed chiles, but NOT the Nogada cream sauce. Add sauce after warming.
Enjoy!