You may think of potato soup as a quintisential German dish, but did you know Asparagus soup (which typically includes potatoes) is also popular? 
Asparagus gradually made its way to Germany in the 1500's.  Currently the Deutsch are the 4th largest producer in the world.  When you are in Germany during Asparagus season, which is  early summer, you will find it prepared every possible way in restaurants. 
Texicureans visited with Barbara Laner in the Black Forest area of Germany to learn her time honored recipe.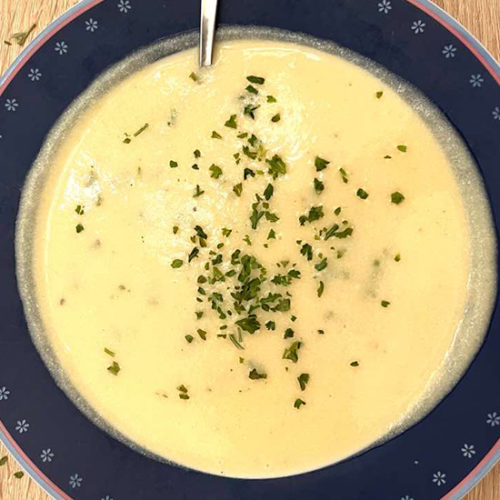 German Asparagus Soup
Ingredients
1

cup

butter

6

cups

Asparagus, (peeled if larger than 1/2 " Diameter) and cut into 2" pieces

6

cups

peeled and chopped potatoes

2

cups

chopped onions

6

cups

vegetable broth

½

cup

sour cream

¼

tsp

ground ginger

½

tsp

nutmeg

pepper to tasts
Instructions
Melt butter in large cooking pot

Add chopped onions and stir until slightly cooked.

Add vegetable broth and heat until almost bubbly.

Add potatoes and asparagus, stir and let cook on medium heat for about 40 minutes.

Stir and use either an immersion chopper, or place in increments in a blender until smooth.

Sprinkle in nutmeg and ginger

Let sit with lid on for a few minutes.

Ladle in bowls and garnish with chives or parsley.
Video
Notes
You can also substitute squash for the asparagus in this recipe!