And here it is!  The finale to the Irish Pub meal consisting of the yummy Guinness Reduction Pork Tenderloin and Colconnan potatoes:  Apple and Mixed Berry Crumble with Custard Sauce.  It's a mouthful to say and a mouthful of flavor!
I love to incorporate fruit into deserts – its a great way to get more fruit into your diet.   A few spoonfuls of sugar and spice give it the sweet appeal.  This custard also adds bone-healthy dairy.
I had never thought to incorporate apples into a berry desert – but here it is and the combination is a winner.
Thank you Chef Mike Morphew for all you've taught us this month.  And if you're in the La Grange area, be sure and stop by Le Petite Gourmet kitchen shop – You will walk out with a myriad of ideas for your kitchen!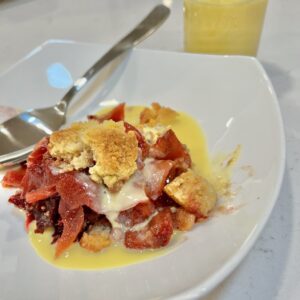 Apple and Mixed Berry Crumble with Custard Sauce
Perfect Irish Dinner Finale
Ingredients
2

lbs

cooking apples, sliced

1

lb

package frozen mixed berries

2

tbsp

butter

½

cup

brown sugar

2

tsp

cinnamon

1

finely-grated lemon zest (from 1 lemon)
Crumble Topping
3/4

cup

flour

1/4

cup

oats

1

tsp

baking powder

6

tbsp

butter, diced

1/2

cup

sugar
Custard Sauce
1

pint

milk

3

egg yolks

1/2

cup

sugar

1

tsp

vanilla extract

3

tsp

cornstarch diluted in a little milk
Instructions
Place the apples in a pan with 2 tbsp butter and cook for a few minutes.

Add the brown sugar, lemon zests and cook until the apples are tender, add the mixed berries

 Pour into an oven proof dish

To make the topping place  all ingredients into a processor and pulse till it resembles fine breadcrumbs

Pile this mix onto the apples and sprinkle a little brown sugar over the top.

Bake in the oven at 350 degrees for approx. 45 minutes.
Custard Sauce
Mix the egg yolks with the sugar, vanilla and cornstarch.

Whisk the hot milk onto the egg mixture then return to the pan.

Stir continuously until the liquid boils

Pour over individuals servings if plating, or serve on the side if serving buffet style.
Video