I've always wanted to cover this food genre. So what did I need? Well, first a Farm. Second, a friend who appreciates ingredients and wants to have some fun. Cue Megen Litzenberger. Come along as we travel to Cielito Lindo Farm in Johnson City and connect back in my kitchen to make Megen's delicious Sopes.
Farm-to-table is not exclusively for granola moms and the trend didn't come out of nowhere.  It's refreshing to see us reclaiming the most basic principles of food. I grew up visiting my grandmother's farm in Dime Box, TX. I come by this legitimately, and I bet, as Texans, many of you do too.
The "Farm to table" description of a meal – whether in a restaurant or in your home has become a popular phrase describing the joy of enjoying farm fresh and locally sourced food. Some restaurants even display a chalkboard listing their farm sources and the farms noted for each menu item.   When it comes to the table in your home, Farm-to-table can also refer more loosely to farmers markets, Community Supported Agriculture (CSA) and other venues where people can buy food directly from growers.
Cielito Lindo Farm 
https://www.cielitolindofarmtx.com/
The adventure began in Johnson City at Cielito Lindo farm.  Located in tandem with Lewis Winery, their heritage breed chickens forage in the vineyard inside chicken tractors which can be moved on a daily basis. This is where I purchased chicken breasts to use in Megen's recipe.  Julia Poplawsky Lewis is the owner and resident butcher.
We asked Julia to share some insight into their vision for the vineyard/chicken venture. She said, "The team at Lewis Wines has been focused on making Texas a reputable US wine region which means making 100% Texas wine and responsibly growing Texas fruit. Lewis Wines believes that wine is made in the vineyard, so growing high quality fruit and having sustainable farming practices is of utmost importance. That's where Cielito Lindo comes in. Together, Lewis Wines and Cielito Lindo Farm work alongside each other in stewarding the land with healthy livestock management practices. During the winter and part of the spring, the meat birds live in the vineyard in chicken tractors where they are moved daily. The chickens fertilize the soil as well as give the top layer of soil a gentle 'tissue' massage as they root around searching for grub. Soil management is so important to overall vine health, so by rotating livestock through the vineyards, they are able to capture what the soil needs without spraying any harsh or synthetic chemicals."
Talk about the full meal deal – you can do a wine tasting, then go home with chicken and a bottle of wine for tonight's meal! And if you're feeling extra adventurous, Julia even gives butcher classes as an added service.
With fresh chicken breasts from the farm in hand, I invited Megen over to demonstrate her Sopes recipe. Because when farm-to-table meets a dynamic recipe, it can be art.
Megen's Sopes 
I met Megen Litzenberger in her role for West Chelsea Contemporary, a gallery featuring contemporary and emerging artist exhibitions in Austin and New York. Megen shared her dream of taking her creative spirit and love of food to create a farm-to-table restaurant with edgy appeal. The wheels started turning, and before you know it, I was driving to the farm and Megen was knocking on my door.
Now for the Sopes Recipe. Megen imparts,  "This recipe is inspired by all of the hispanic women in my life from childhood until now.  Without them, I wouldn't have been introduced to the colorful flavors and heritage of this cuisine.  Every ingredient can be made fresh and from scratch (the sopes, salsa, etc).   But if you're looking for a meal that can be adjusted to your schedule/busy life,  is delicious, rich in flavor and history – this is the one!"
When I asked Megen, "how much spice do you recommend using?", her answer was "just stop when your ancestors tell you to stop"! We love this. Cooking with Megen was a joy. We hope you have as much fun as we did cooking –- and of course — enjoying these flavorful bites.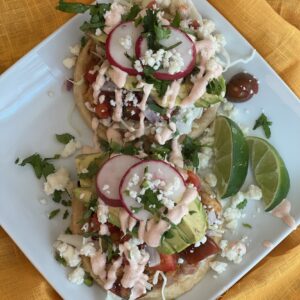 Mexican Sopes
Ingredients
1

pkg

Pre-packaged store bought Sope cups (you can also make your own) or small raw tortillas

4

tbsp

neutral oil

1

cup

refried beans
2

cups

lettuce finely shredded

1 1/2

cups

Seasoned and cooked chicken breast

1/2

cup

questo fresco, crumbled

1/2

can

ancho chilis

1/4

cup

white onion finely chopped

1/2

Cup

Mexican Crema

Spicy salsa of your choice

1

bundle

cilantro
Additional Toppings
Radishes thinly sliced

1

avocado sliced or diced

Tomato diced or sliced

Pickled carrots/jalapenos
Marinade for Chicken (season with your heart)
Canned ancho chilis

Cumin

Smoked paprika

Mexican oregano

Onion powder

Garlic powder

Salt and pepper

1/2

Bundle

bundle of cilantro diced
Instructions
Chicken
Dice chilled chicken into 1 inch cubes.  Mix meat, seasonings and herbs.  Cover and let sit overnight if possible.  (Minimum of 1 hour). Cook meat in a skillet on medium-high heat with neutral oil of choice.  Seer until some edges of chicken crisp or until golden brown and moist.  
Beans
Heat beans in a small saucepan with 1 tsp of neutral oil.  As the beans heat through - add 1 pad of butter and 1 cup of shredded cheese of choice.  Mix until well combined - turn off heat once warmed through.
Sopes
Heat minimum 2 inches of neutral oil in a frying pan and lightly fry the sopes (roughly 1 1/2 minutes on each side or until golden brown). Place them on a plate with paper towel to discard excess oil.  Season with a pinch of salt once out of oil.
Assemble
Place sopes on a large plate and spread beans.  Add some of the chicken on top and then chopped onion, lettuce and radishes.  Pour salsa, then add crema and finish with quest fresco (or crumbled cheese of choice)

Serve immediately and HAVE FUN!
Video