Strawberries – just the very mention of this delectable, soft, red berry conjures up sweet thoughts.
Good News: April is the peak season for this Texas delight.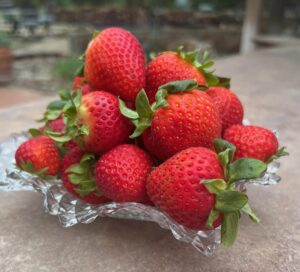 Poteet is the strawberry capital of Texas, and with over 20 growers in the area, you have the option to pick your own or snag a flat directly from the farmer.  In True "Farm to Table" fashion, the sweetness of strawberries grown locally is incomparable.
I have picked strawberries at a farm and it is literally like an Easter Egg hunt for adults!  Children love it as well.   As Johann Wolfgang von Goethe said, "One must ask children and birds how cherries and strawberries taste."
This recipe for Fresh Strawberry Ricotta Dessert is a simple treat.   Using a prepared angel food cake cuts out precious time.  So, all you are left to do is slice the berries, whip the cream with sugar, vanilla, and ricotta, and layer in a pretty glass bowl.  The bowl matters less if you are plating.
By the way, if you'd like to attend the Poteet Strawberry Festival, the dates are April 14th, 15th, and 16th, 2023.
Also, another "pick your own" farm is The Sweet Berry Farm in Marble Falls which offers other activities for children as well.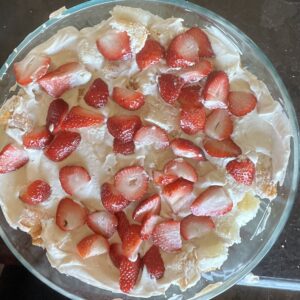 Fresh Strawberry Ricotta Dessert
Texas Strawberries are in season
Ingredients
32

oz

Fresh sliced strawberries

1

cup

Ricotta cheese

2

cups

whipping cream

3/4

cup

sugar

1

tbsp

vanilla

1

prepared angel food cake

1/2

lemon
Instructions
Whip cream to form soft peaks. Whip in Sugar and vanilla. Fold in ricotta. Squeeze in 1/2 lemon and mix.

,Layer cake in a glass bowl

Next  layer is cream, followed by a layer of strawberries

 Continue layering until all ingredients are used, finishing off with a layer of cream.   
Video
Notes
This can be prepared 3-4 hours before serving.