The pecan tree was declared the state tree of Texas in 1919. It is native to Texas and produces the state's only commercially-grown nut. Infuse these pecans with a late-comer Texas bourbon whiskey and you have a delectable dessert.
I chose Rebecca Creek Bourbon Whiskey for this bourbon-infused pecan pie, but there are several options to keep it "all Texan."
Firestone and Robertson (their yeast is actually made from locally-sourced Texas pecans), Ranger Creek, Treaty Oak, Ben Milam, and Garrison Brothers are but a few Texas-born-and-brewed bourbons.
Warning: this pie may not be legal in a "dry county."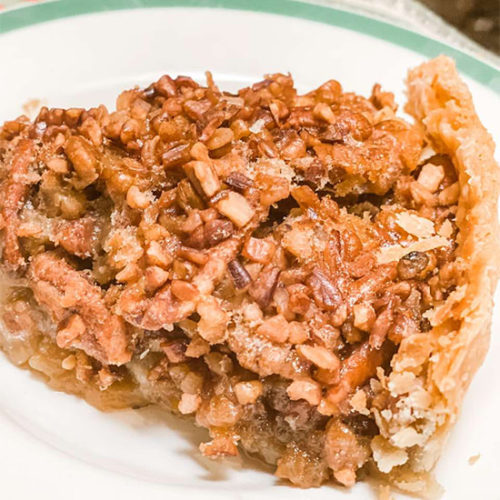 Bourbon Infused Pecan Pie
Ingredients
1

HEB refrigerated pie crust

¼

cup

plust 2 tbsp butter (divided)

1

cup

sugar

1

cup

dark corn syrup

3

large eggs

½

cup

Rebecca Creek Bourbon Whiskey (divided)

1

tbsp

vanilla

1

pinch

salt

2½

cups

pecan halves

½

cup

chopped pecans
Instructions
If possible the day before: Toast the 1/2 cup chopped pecans in 2 TBSP Butter. Pour 1/4 cup Bourbon in a glass bowl and add the toasted pecans. Let sit for 8 - 24 hours.

Preheat oven to 325 degrees. On a lightly silpat or lightly floured surface, unroll pie crust dough. Carefully transfer to a buttered pie plate.

In a large saucepan, combine butter, sugar and corn syrup. Cook over medium-low heat until sugar is dissolved: Cool slightly.

In a large bowl, whisk eggs, 1/4 cup bourbon, vanilla and salt; slowly whisk in sugar mixture.

Stir in pecan halves and pour into crust.

Evenly spread bourbon infused chopped pecans across the top.

Place pie plate on a baking sheet and bake 55-60 minutes. Let cool for at least 15 minutes before slicing.