"Absolutely best chocolate cake you have ever made" resonated around the birthday celebration table for my son.  For his birthday every year, I have the pleasure of making my youngest Son's favorite desert – German Chocolate Cake.  This year, he has gone gluten-free, so I was forced to experiment with a different recipe.  The whole family said it was their favorite chocolate cake – Hands down – that I've ever made – woohoo!  Perhaps it helps that it is a German "Dark" Chocolate cake 🙂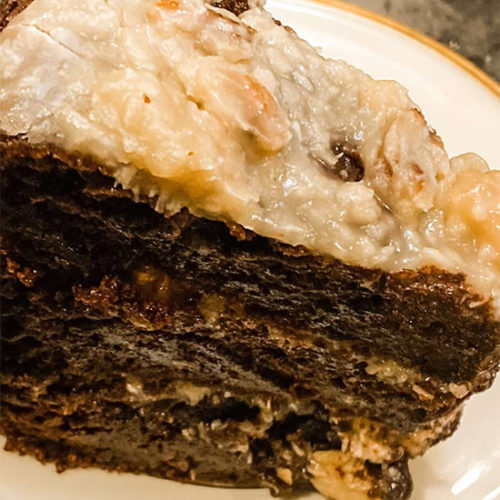 Dark German Chocolate Cake (Gluten-free)
Ingredients
Cake
4½

cups

granulated sugar

4

cups

GF flour (includes xanthan)

1¾

cups

cocoa powder

3½

tsp

baking powder

3½

tsp

baking soda

1½

tsp

salt

5

large eggs

2¼

cups

half and half

¼

cup

sour cream

1⅛

cups

vegetable oil

2

tbsp

vanilla extract

2¼

cups

intensely hot water
Coconut Pecan Filling and Topping
2½

cups

sugar

⅔

cup

water

1⅓

cups

water

1

cup

pecans, toasted and roughly chopped

1

cup

unsweetened coconut, lightly toasted
Instructions
Cake
Preheat oven to 350 Degrees. Grease and flour 3- 9" round cake pans.

Blend together the sugar, flour, cocoa, baking powder, baking soda, and salt. (I use a whisk)

Whisk together the eggs, milk, oil, and vanilla extract in a separate bowl.

Add wet ingredients to the dry ingredients an mix at low speed for 5 minutes.

Slowly pour the hot water into the batter, continuing to mix.

Divide batter between the 3 pans and bake until the center feels firm to the touch (I use a spoon), about 30 - 35 minutes.

Layers can cool in pans, be made a day ahead and refrigerated.
Filling and Topping
Pour sugar into the middle of a deep heavy pan. Pour the water around the edge of the pan. Gently stir to moisten the sugar.

Bring to a full boil (using high heat), and cook with out stirring, swirling the pan occasionally to even out the color, until it reaches a medium caramel color - 5 - 15 minutes.

Remove from heat and use a long-handled spoon to slowly and carefully stir in the cream - being cautious of splattering. Stir in the nuts and coconut. Keep warm.

Place one layer - rounded side down on cake platter, top with 1/3 filling. Repeat with layer #2, Place top layer - rounded side up and top with remainder filling. Sides of cake will remain uncovered.