Chili and cornbread, pinto beans and cornbread:  What could a be better pairing?!
Texas Ranger, Retired, Frank Malinak's Chili or Pinto Beans, Instantly both call for cornbread as the perfect accompaniment.  On the trail, a Texas Ranger would have most likely used a cast iron skillet, and quite honestly – it's my favorite way to make cornbread.
The added cheese and frozen corn gives it that extra comfort food element.  I also like to add a chopped jalapeño, a little extra cheese and chopped onion to beef it up.  You can also substitute the EVOO with bacon drippings if you so desire.
I know it sounds a little crazy, but I've also topped this cornbread with a little honey.   The sweet and savory are delightful.
If you freeze a a portion – which works beautifully, I recommend warming it back up in the oven as opposed to the microwave – it will add back the crispiness.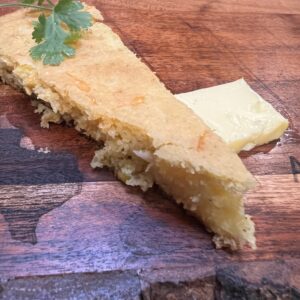 Cheesy Crispy Cornbread
A cast iron frying pan delight
Equipment
10 inch cast iron frying pan
Ingredients
1

cup

cornmeal

1/2

cup

flour

1

tbsp

baking powder

1

tbsp

sugar

1

tsp

dried, minced garlic

1

tsp

onion powder

1/2

tsp

kosher salt

1

cup

cheddar cheese

1/4

cup

chopped onion

1

cup

milk

4

tbsp

EVOO, divided

1

large

egg, beaten

3/4

cup

frozen corn
Instructions
Preheat a 10 inch cast iron frying pan in a 350 degrees oven.

Whisk together the cornmeal, flour, baking powder, sugar, garlic, onion powder, and salt.

Add remaining ingredients (only 3 tbsp EVOO) and stir until just combined.

Remove pan from oven and add 1 tbsp EVOO to pan - spreading to cover.  Pour batter into pan and return to oven.

Bake for 35 minutes or until golden brown.
Notes
You can also add 1 chopped jalapeño, 1/4 cup more cheese, and approximately 1/4 cup more chopped onion without drastically changing the recipe.

 
You can also substitute bacon drippings for the EVOO if desired.