John Nance "Cactus Jack" Garner is another Texan that made it to the White House.  Starting his political career as a county judge, he then moved to State politics to serve in the House of Representatives during the session Texas was choosing its state flower.  He fought for the prickly pear cactus and thereby gained his nickname. 
Moving to the US House of Representatives in 1902, he continued in this role until 1933.  In 1932 he threw his hat in the ring for President of the United States.  Realizing during the process that Roosevelt would take the lead, Garner cut a deal with him to be the Vice President.  He served in that role until 1941. 
On a personal note, Garner raised pecans and sheep.  It is with a nod to his vocation that this recipe for lamb is presented.  Shoulder lamb chops are smothered in a chipotle sauce with adobo for a "fall off the bone" flavorful dish. 
If you've never tried lamb, this may be the dish for you.  It is "company worthy" with a beautiful combination of colors.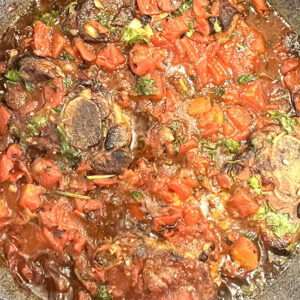 Chipotle Lamb Chops
Tender Chops in an adobo chipotle sauce
Ingredients
2 Chipotle Chile peppers in adobo sauce (canned)Plus 2 tbsp sauce from the can

¼

tsp

dried thyme

½

cumin

4

lamb shoulder chops (about 1.75 - 2 pounds total)

kosher salt

tbsp

Extra Virgin Olive Oil (EVOO)

½

cup

chopped onion

3

cloves garlic, chopped

1

bunch

chopped fresh cilantro (leaves and stems)

½

tsp

cinnamon

28 oz

can fire roasted tomatoes

1/4-1/2

cup

white or red wine
Instructions
Mince and the chiles with a large knife.  Combine with 2 tbsp adobo sauce from the can.  Add thyme and cumin and mix.

Season the lamb chops with salt and coat with the Chile mixture

Heat the EVOO in a large skillet over high heat.  Add the lamb chops and cook until browned on both sides, about 8 - 10 minutes.

Stir in the onion, and cook a couple minutes.  Add the garlic, cilantro and cinnamon and cook about 2 minutes.  Add the tomatoes and bay leaf, using a wooden spoon to scrape the browned bits from the bottom of skillet.  Add wine if desired and let simmer for 20 minutes until meat is tender and sauce has thickened
Video