My niece, Emily Williams, and I started Texicureans because of our mutual love of the foods and cultures that make Texas like no other. During the last three years we have joined friends in many Texas home kitchens and ventured to their culinary cultural destination counter parts. We learned how to make Spanish Soup and biked the Missions. We enjoyed French Soup and visited the French Legation. You see, adventure isn't just checking off a box. Adventure is also learning something new, tasting family ingredients, and sharing the hugs. That's what being a Texicurean really is all about.
In English we only have one word to express affection for each other – Love.  Our mother language, Latin, is broader in nature with several terms – Amor:  affection, fondness, adoration attachment.  Caritas:  charity, high price, expensiveness, and scarcity.  Dilectio:  delight, pleasure, goodwill.
Valentines has always been a favorite of mine – from creating shoebox containers for classroom valentine greetings in elementary school to celebrating with family and a few friends.  For many years because we had sons at home and my sister was single with a daughter (Emily), we chose to celebrate with a family dinner.  One of our favorite activities was to go around the table and tell what we loved about each other.  Of course, it was edifying, but sometimes also surprising to find what we all found to be important about each other. When it comes to love, there is truly no place like home.
Valentine's Charcuterie Tutorial
In that spirit of family love, Emily and I gathered in the kitchen for a tutorial on her making a beautiful charcuterie board. Aside from her corporate role in Austin, Emily owns a charcuterie business @emideecharcuterie. She creates beautiful trays, boards, and tables for all levels of clients. You can find her partnering with influencers or leading in-home and virtual workshops for all things cheese and accoutrements.
This month, Emily is going to demystify the process for anyone wanting to give charcuterie a try. Charcuterie boards and grazing tables have become a beautiful way to entertain a large group. Here's an example of a board that serves 4-6.  You can gather these items at HEB or your favorite cheese shop.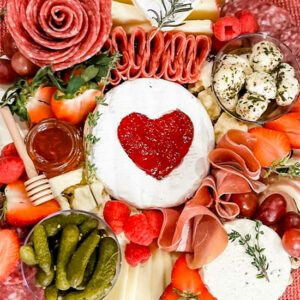 Charcuterie Board A la Emideecharcuterie
Ingredients
Brie

Manchego

Mozzarella Balls
Honey Goat Cheese

Garlic and herb Boursin

Prosciutto Wrapped Mozzarella

Aged white cheddar for crumbling
Meats
Prosciutto

Calabrese Salami

Italian Dried Salami

Sopprasata
Other Components
Cornichons

Strawberries

Grapes

Raspberries

Honey

Strawberry Jam

Fruit and Nut Crisps

Watercrackers

Marcona Almonds

Fresh Thyme

Fresh Rosemary
Instructions
 Place bowls/ramekins on the board, careful not to clump together. Four corners and one in the center is a good rule.

Place cheeses throughout the board, remembering to incorporate texture and to create balance of shapes and colors throughout – again, avoiding clumps of color/shapes in one area

 Create salami rose by layering 15-18 slices in a straight line, one on top of the other but about half an inch. Roll it up from the first one you placed down to the last. Place inside a ramekin and use your fingers to pull the petals outward (not upward) to make the rose "bloom." If there is a gaping hole in the middle, roll up about 3 more slices and stick in the middle, and repeat with 1-3 slices if a hole remains until there is a "bud" at the center of the rose.

Place the prosciutto in ripples on the board and the calabrese salami in folds

The dry "log" salami such as Soppressata can be sliced in medallions and either layered in a line, or stacked a few on top of each other on one side of your board

Place the fruit – halved strawberries in groups of 3 throughout the board, four corners is a good model here too. Raspberries in two clumps on opposite sides of the board from each other for color balance. Grapes stay on the stem in a cluster and one small cluster on one side and another small cluster on the other side of the board. Wherever there is space!

Crackers can be conspicuously placed on the board, under things or stacked upright between two items. Or they can be served on the side

Honey, cornichons, jam, mozzarella balls with oil, and any other liquid-y item can go into the bowls/ramekins that were first added to the board. If you use the cookie-cutter trick in your Brie as a centerpiece (reference video,) add jam or pomegranate seeds to the cut out in the Brie

Add garnish to the top especially where there is a lot of white from the cheese to add some color/greenery and WA-LA a gorgeous board ready for you and your guests to gather around and enjoy!
Video