Stewed Tomatoes and Okra (with sausage and shrimp)
When I think of the foods I crave, there is generally a wonderful aroma connected with them. This dish is a delight to prepare and savor at the same time! Join Texicureans and Corey Benbow as we prepare this traditional southern African-American dish. And I learn an important food preparation hack!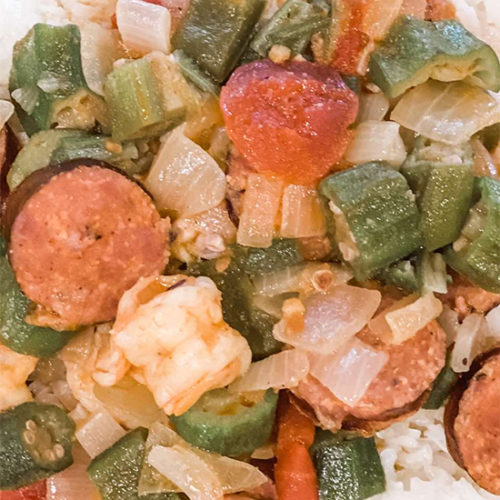 Stewed Tomato and Okra (with sausage & shrimp)
Ingredients
2

cups

Mahatma Rice

2

sticks

butter

1

onion - chopped medium

1

tsp

garlic powder

1

tsp

onion powder

1

package

andouille sausage

1

can

stewed tomatoes

1

pound

raw shrimp

1

bag

frozen cut okra

Louisiana hot sauce to taste

Cajun seasoning to taste
Instructions
Rinse Rice in bowl or colander until water runs clear

Add 2 Cups Rice to 5 Cups water in a pot, bring to boil, reduce to simmer, add stick of butter. Cook until water fully evaporates - (approx. 30 minutes)

In a large skillet, add 1 stick butter and melt over medium heat. Add chopped onion and pepper, garlic powder and onion powder. Cook over medium heat, stirring occasionally for about 10 minutes.

Add andoullie sausage and cook over medium heat for 5 minutes.

Add stewed tomatoes, stir in and cook over medium heat, covered for 10 minutes.

Add shrimp, cook fo 5 minutes, covered.

Add cajun seasoning and hot sauce, stir.

Add frozen okra to top (don't stir) and cook for 7 minutes.

Stir and cook for additional 7 minutes.