They do not get nearly the attention of the jalapeno , but poblano peppers are super charged with flavor. The poblano (or also called Ancho) pepper is my favorite pepper because they have that great pepper taste but are much milder. 
They are great for adding just a touch of zing to pasta, chili, salads, and dozens of other dishes.  Think:  substitute poblano for bell pepper.  I find they also last in the fridge for quite a while.  
"Just a little heat" characterizes this easy to prepare main dish. Poblano peppers & a dash of jalapeños give it punch, while not overpowering. Just add salad & you have a winner of a dinner!
 Prepare a day ahead, pull from the fridge 30 minutes before dinner, and place in preheated 350 degrees oven for 10 minutes.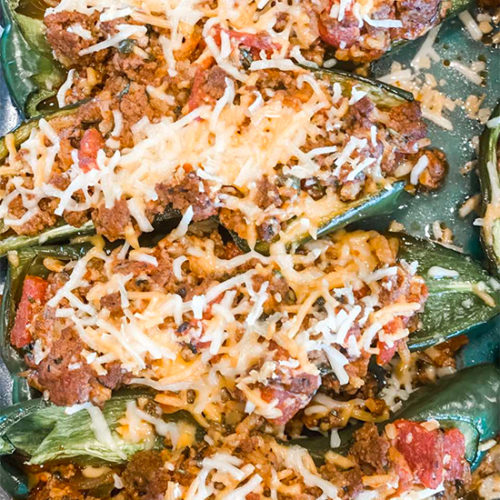 Stuffed Poblano Peppers
Ingredients
6

large poblano peppers, cut in 1/2 lengthwise, seeds and ribs removed (I also cut off the stem end)

1

tsp

vegetable oil

1

lb

grass-fed beef

1

small onion

3

tsp

minced garlic

1

seeded jalapeño, finely chopped

3

tsp

chili powder

1

tsp

dried oregano

2

tsp

cumin

1

tsp

pepper

½

tsp

salt

1

cup

cooked rice

1

15-ounce can

petite diced tomatoes

1

cup

shredded cheddar or Monterrey jack cheese
Instructions
Preheat the oven to 350 degrees. Coat a baking pan with cooking spray. Lay the poblano peppers on the pain a single layer

Bake the peppers for 10-15 minutes or until softened

Heat the oil in a large pan over medium high heat. Add the onion, garlic and cook for 1 minute.

Add the ground beef and cook for 5-6 minutes, breaking up the meat with a spatula, until the meat is cooked through

Add additional seasons and chopped jalapeño and stir

Remove from heat and Add the rice, tomatoes, and cheese to the mixture, giving it a quick stir to combine

Divide the meat evenly between the peppers and top with remaining cheese

Place back in oven for 10 minutes and serve