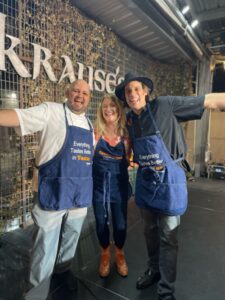 For the culinary curious, something exciting is happening in New Braunfels. Think you've seen (and tasted) it all? Well, have you ever had cilantro and sauerkraut in the same dish?
Accomplished musician and now New Braunfels local Alex Meixner, along with executive chef Boomer Acuna are selling out "GerTexican" experiences at Krause's. We went last month, and it did not disappoint! Their new genre is a fusion of German, Texan, and Mexican cuisine; it is creative and authentic right down to the tequila cherries on the dessert. We ate and drank everything in sight, swayed along to the accordion, and laughed at our hosts' banter.
Cooking really is a dance. The music comes from the sizzles of the pan and the chopping of the knife. The chef shuffles around the counter in choreographed steps, sometimes improvising to get just the right balance and flavor. "Ein Prosit" can take you to Germany; Mariachi "El Son De La Negra" can take you to Mexico. But there is only one place in the world where it all comes together to make magic. And you already know where that is —Texas.
History
History affords us the opportunity to view the influences that have
impacted our past so that we can better understand our present. Of the many cultures that settled the unbridled state of Texas, two have intertwined n a distinctly Texan fashion. Let's dive in!
In 1681, Along the upper Grande, a group of exiled Spaniards and Native Americans from the Pope's Rebellion settled near what is now El Paso to establish the first European base in Texas.
From 1690 to 1821, Spain ruled Texas. Spain left a legacy of the Spanish language – evident in every major river and many towns that bear a Spanish name.
Additionally, the Spaniards left the legacy of Roman Catholicism. Nearly all people living in Texas at the end of Spain's reign were members of the Roman Catholic Church.
In 1821, Mexico took control of Texas after winning the Mexican War for Independence from Spain, and that governance continued until 1836. It was during this time in the 1830s that the first permanent German settlement in Texas was established by Friedrich Ernst and Charles Fordtran in Industry, Austin County. Ernst's description of this Mexico-ruled area in a letter to German friends was so influential that he has been remembered as "the Father of German Immigration to Texas."
Like the Spanish, the Germans brought Catholicism, among several other religions.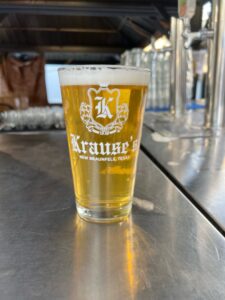 Music, like food, is a culturally-distinctive phenomenon. But have you ever listened to what seems to be an instrumental German Polka band piece, only to discover that it in fact is a Mexican song? This music is a Mexican style of polka known as Norteño. Influenced by German settlers in Texas around 1830, some types of Mexican music have the German polka "oom-pah-pah" influence.
Owen Duggan of San Antonio, who holds a Doctorate of Music, tells us, "Like Mexican beer, Conjunto is a fusion of two cultures. It is a style of Tejano music known for its jaunty, happy, danceable rhythms. In the late 19th Century, German immigrants introduced the button accordion and polka music into South Texas and northern Mexico. It remains one of the favored dance music of Tex-Mex culture. Its most famous practitioner is San Antonio Born Flaco Jiménez, world renowned as a virtuoso button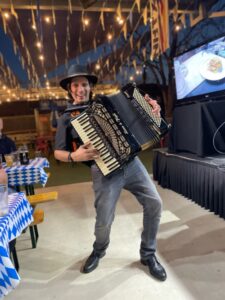 So, it would only stand to reason that when Alex Meixner, of Austrian descent and a nationally acclaimed accordion polka musician, would pair with Boomer Acuna, a Mexican heritage chef – there would be culinary Magic.
Hence, the birth of the "GerTexican" food genre!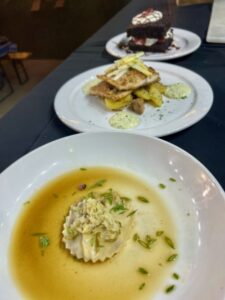 Texicureans joined with Alex and Boomer and an enthusiastic audience at the Krause's outdoor stage in New Braunfels to watch Maultaschen unfold. The German meat dumpling is traditionally served in broth as soup or fried in butter and topped with caramelized onions. Add cilantro, jalapenos, cumin, cotija cheese, top will a little sauerkraut and Voila! You have a Tex-Mex fusion. Of course this was all accompanied by beer – a love of both cultures, and the magic of Alex Meixner's accordion!
Tickets for the "GerTexican" Dinner and Cooking Demo experience go fast! Visit Krause's website and social media to reserve your spot for the next one.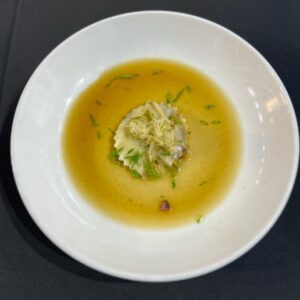 Maultaschen
Ingredients
Sauerkraut
1

head

green cabbage

5

green onions, diced

1

bunch cilantro, chopped fine

4

cloves

garlic, minced

2

jalapeños, diced fine

4

tbsp

kosher salt
Dumplings
1

pound

smoked brisket

2

large

russet potatoes, peeled and boiled

2

oz

cojita cheese, grated

1/2

cup

heavy cream

1 1/2

pounds

fresh pasta dough, or wonton wrappers
Instructions
Sauerkraut
Shred green cabbage as fine as possible, preferably on a slicer or mandolin

Mix all ingredients in a bowl.  The salt will make the cabbage lose its juices, that's what you want!

Place into a jar and set in a dry dark place.  Every couple of days open jars to release gas.  After about 2 weeks the cabbage will be ready.  It's okay if it has a fizz to it that's part of the fermentation process.  Then store it in the refrigerator.  
Dumplings
Chop brisket and set aside

Mash boiled potatoes with cotija cheese and heavy cream until smooth.  Season with salt and white pepper to taste.  Place in a piping bag or ziplock bag

Roll out pasta dough (if using homemade pasta dough).  If using wonton wrappers, you need egg wash to seal the edges.

Place about 1 tbsp of chopped brisket in the middle of the dough and top with another tablespoon of potato.  Lay another sheet of dough on top and seal with a fork, ravioli maker, scalloped pasta cutter, o just press with fingers.

Cook in pot of boiling salted water for about 5 minutes.

 Strain, place into serving bowls

Ladle your favorite hot broth or stock over the dumplings and top each with sauerkraut. 
Video