If you like black-eyed peas, you will probably love purple hull peas!  A southern grown delight, they are actually classified as a bean, are high in protein and fiber, and are raised here in Texas.
 I found fresh frozen purple hull grown from Sides Pea Farm in Canton, Texas at Central Market.
A spoonful of sugar, onion, and a bit of bacon creates a masterful side dish or even a main since it does have a strong protein content.  As much as I love black-eye peas, I would have to say that purple hulls are much tastier and prettier.
By using fresh frozen, the cooking  time is only 45 minutes – and most of that is at a simmer.
I add cooked bacon after the boil.  If using a small piece of salt pork, you'll need to add with all other ingredients before the boil.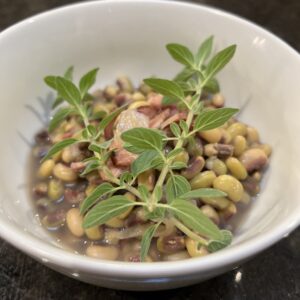 Fresh Texas Purple Hull Peas
A scrumptious side or main
Ingredients
4

cups

fresh frozen purple hull peas

1/2

tsp

salt

1

tsp

pepper

1

clove

garlic, chopped

1

Tbsp

sugar

1

medium

onion

3

cups

water

4

slices

cooked and crumbled bacon
Instructions
Combine all ingredients in a medium cooking pot.  Bring to a rapid oil,  Turn on low and cook for 40 minutes.

Note - If using cooked bacon, I add after the boil.  If using salt pork or uncooked bacon, add with other ingredients before boil.
Notes
I like to cook a full package of bacon and freeze in between layers of parchment to easily pull out for recipes.

 

You can also use about 1/4 of a salt pork piece in place of bacon.