Of course we all love Mac and Cheese. Add slightly sweet butternut squash and viola! The love goes to obsession.
This is a great dish to make for your Christmas meal, but it also is wonderful to have around during the holidays when you are reduced to snacking and trying to maintain some bit of healthy status. It is filling, and by using chick pea macaroni, the carbs are cut a bit without sacrificing taste.
I especially like this recipe for a couple reasons:
1.The onions and rosemary create a nice savory appeal.
2. By simply layering the mixture with cheese, there is not the stringy cheese spoon.
Want to branch out? Try penne, ziti, or twirls for a different look. Cheese options could be Colby, Swiss, Pepper Jack, or Emmental. Also, throwing in a chopped jalapeno or two is always a good option.
You can also throw together a salad and enjoy a complete veggie meal!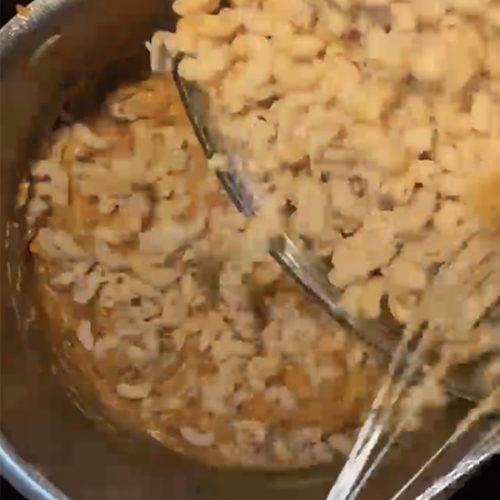 Butternut Squash Mac and Cheese
Ingredients
12

oz

dried macaroni

1

butternut squash, cut in ½ and drizzled with olive oil

2

whole yellow onions

½

cup

butter, divided

3

tbsp

flour

2

cups

milk (preferably whole)

2

cups

grated sharp cheddar

1

tbsp

fresh, chopped rosemary

⅛

tsp

nutmeg

salt and pepper to taste
Instructions
Preheat oven to 400 Degrees F. Place butternut squash cut side up on a baking sheet and roast for 25 minutes. When the squash is tender, scrape out the flesh and mash with a spoon or potato masher. (Reduce oven temp to 350 degrees after removing squash)

While the squash is roasting, cook the macaroni until al dente. Drain, rinse with cold water to stop the cooking process and set aside.

Melt 1/4 cup butter in a large skillet, add the sliced onions and cook until they are a deep golden brown. Remove from the skillet and set aside.

In same skillet, melt the remaining 1/4 cup butter and then whisk in the flour. Add the nutmeg and cook, stirring constantly, for about 2 minutes.

Add the 2 Cups milk, and whisk until mixture is smooth. Turn the heat to high and bring to a boil while continuing to whisk. After sauce has thickened, turn heat to low and whisk in the butternut squash. Stir in the fresh rosemary. Add the cooked macaroni to the pan and stir until the macaroni noodles are all coated.

Season with salt and pepper according to taste.

Grease a 2 quart casserole dish. Pour half of the noodle mixture into the pan.

Sprinkle half of the cheddar over the macaroni noodles. Add the remaining noodle mixture and top with the rest of the cheese.

Bake in 350 degree oven for 25 minutes or until cheese is bubbling.
Notes
Leftovers, if there are any, freeze well.