If you would like to really "wow" your guests or fellow revelers on New Year's Eve, this savory cookie is the answer!
My friend Sandi Mueller, former educator turned baker extraordinaire – turned me on to this delight. She piqued my interest when she said she had never served anything that received more rave reviews than this appetizer. Her guests kept coming back for "just one more". Knowing the breadth of her repertoire, I was duly impressed.
The combination of a rosemary cheesy cookie topped with a tomato jam infused with bourbon, creates a mouthful of flavor. Although the process is two part – one for the jam, and one for the cookie, you can find a slot of time and make the jam and then store in the fridge until you make the cookies. This is exactly what I did!
Another benefit is that there will definitely be some jam left over and it is a perfect addition for a charcuterie.
For a feast for the eyes as well as the mouth, you can add the cookie to a plated salad instead of bread. The jam's red color gives the salad a pop.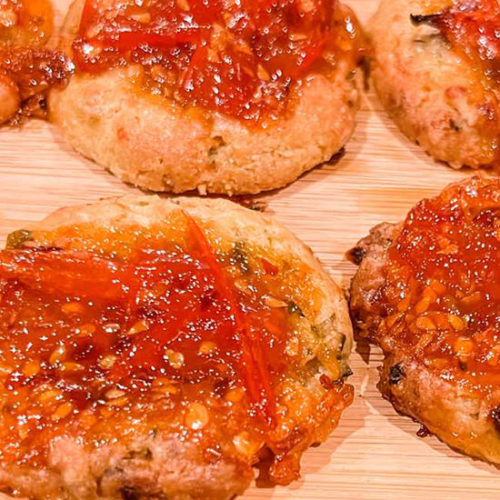 Savory Cookies with Bourbon Tomato Jam
Ingredients
Savory Cookies
1

cup

unsalted butter

1

cup

cheddar cheese

1

deseeded and finely-chopped jalapeño

1

8" sprig rosemary, leaves only finely chopped

½

tsp

cosher salt

2

tbsp

white sugar

1½

cups

flour
Bourbon Tomato Jame
1.5

lb

cherry tomatoes

1 - 1½

cup

sugar

½

cup

apple cider vinegar

1½

tbsp

chili flakes

1½

tsp

minced garlic

⅓

cup

finely-diced onion

¾

tsp

kosher salt

¼

cup

Bourbon
Instructions
Bourbon tomato jam
Mix all the ingredients except for the bourbon in a sauce pan. Bring the mix to a boil on medium heat while stirring to dissolve the sugar. Once the mixes come to a boil, increase the heat to keep it at a boil.

Let the mixture boil while stirring and gently crushing the tomatoes with a spoon or meat crusher as they soften after about five minutes of cooking time. Add the bourbon and mix.

The mixture should keep cooking until the liquid has become very syrupy and thick. The time depends on the heat of your stove and how much liquid is present in the tomatoes. The end product will resemble preserves with tomato pieces in it.

This can be stored in a glass bowl until needed. You'll probably have a little bit left which is great as an addition to a Chacuterie board.
Savory Cookies
In a stand mixer, place the softened butter, sugar and salt and cream all together. Add the cheese, rosemary, and jalapeño.

Add the egg and mix until it is well incorporated into the dough.

Add the flour and mix completely. Cover and chill in the fridge for about 30 minutes until the oven has preheated.

Preheat oven to 350° F and lying to cookie trays with parchment paper.

Make one and a half inch round balls and placed them on the cookie tray with a little space in between. Create a deep well in each dough ball using a moisten them.

Fill each well generously with bourbon tomato jam.

Bake in a preheated oven for 20 to 25 minutes. The cookies should be golden on bottom and light golden on top.
Notes
If you are storing the cookies, do not stack! The jam will stick to the bottom of the cookies I simply placed parchment paper in between each layer and have had good luck freezing.