My friend Jean Tellkamp is the queen of hospitality. My husband and I have been guests for dinner at her and her husband Scott's home a number of times, and every occasion is a special event.
Her carefully thought-out menu, pulled from her extensive collection of cookbooks, is always complimented with a thematic table scape. This evening is no exception!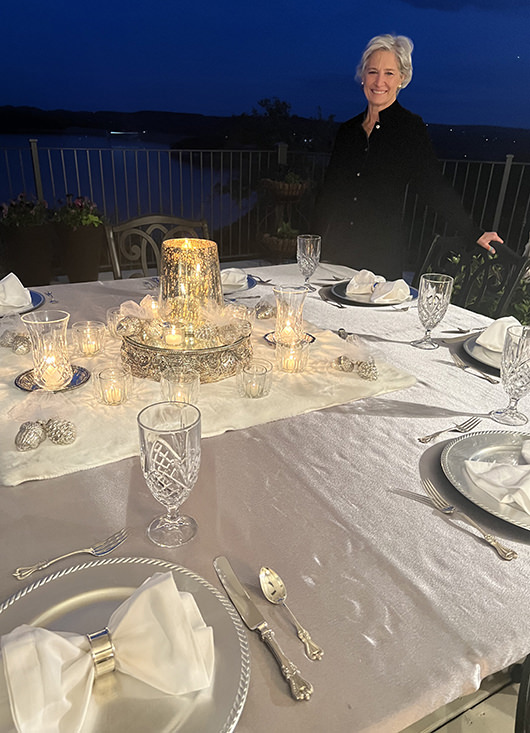 A beautiful white-on-white tablescape with thrift store-found crystal sets the stage for this flavorful dining experience. Think: layer a white tablecloth, furry white material as a runner, lots of candles, and plastic silver chargers to create romantic affair.
Herbed Roasted Pork Tenderloin is accompanied by Spinach A La Jean and Herb Crusted Potatoes. Desert tops off the meal with a nod to her German roots in Fredericksburg in the form of Chocolate Nut Strudel.
Remember: Imitation is the highest form of flattery! Jean would be honored to have you pull from her menu and ideas!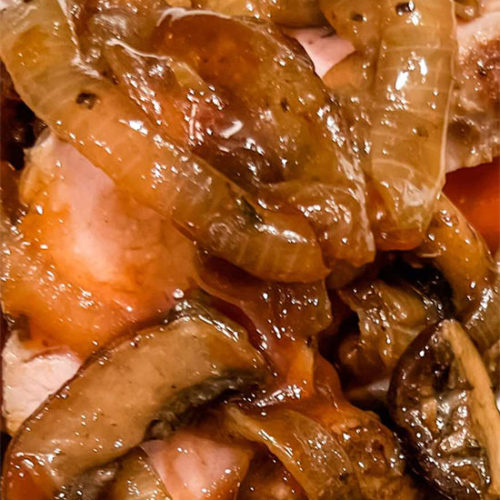 Herb Roasted Pork Tenderloin
Ingredients
¼

cup

soy sauce

¼

cup

Worcestershire Sauce

1

cup

Madeira wine

¼

cup

oil

1

tsp

dried thyme

1

tsp

dried marjoram

1

tsp

rubbed sage

1

tsp

garlic powder

1

tsp

ground ginger

1

tsp

salt

1

tsp

pepper

2

large, yellow onions thinly-sliced

2

tbsp

salted butter

2

tbsp

olive oil

1

lb

sliced cremini mushrooms

1

cup

beef broth

1

1.5 lb package

pork tenderloin
Instructions
Preheat oven to 350 degrees.

Stir together soy sauce and next 11 ingredients in a shallow dish or heavy-duty zip-top plastic bag.Reserve ¼ cup of marinade to mix with pan drippings.

Prick the pork tenderloin with a fork, and place in marinade, turning to coat. Cover and seal & chill for 2 hours; let stand at room temperature 30 minutes. Remove from marinade, discarding the marinade.

Place pork on a rack in a roasting pan.

Bake covered at 350 degrees for 40 minutes, or until meat thermometer inserted into the thickest portion registers 160 degrees.

While pork is roasting, melt butter with olive oil in a large skillet.  Heat the butter and oil over medium-high heat.  Throw in the onions, stirring occasionally, until the onions are golden brown and soft, or 20-25 minutes.  Add the sliced mushrooms and 2 tablespoons of the reserved Madeira marinade mixture.  Stir to combine and continue cooking until very deep in color, 5-7 minutes more.

Remove from heat, but keep warm.

Remove tenderloin from rack and wrap with foil to keep warm.

Scrape pan drippings from roasting pan into a 2 cup glass measuring cup.  You can further loosen the drippings from the pan by adding beef broth. Add the remaining reserved Madeira marinade mixture to the pan drippings/broth and mix well.  Measure 1 tablespoon cornstarch for each cup of the mixture.  Stir together cornstarch with 1/4 cup water until smooth, and stir into the drippings.

Pour mixture into a small saucepan; bring to a boil.  Boil, stirring constantly for 1 minute, or until thickened.

Slice the tenderloin, top with the carmelized onions and mushrooms, and drizzle with Madeira/drippings mixture.  
Notes
Preparing the onions/mushrooms step can be done earlier in the day to free up your time before serving.  Just complete Step 6, cool mixture slightly and store in the refrigerator until the pork loin is roasted.  Take out, reheat and simmer in skillet until you are ready to serve.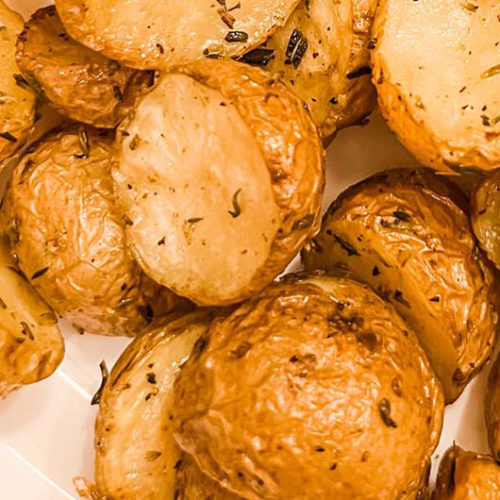 Herb Crusted Potatoes
Ingredients
1½

lbs

Yukon Gold potatoes, cut into wedges

1

tbsp

olive oil

1

tsp

garlic salt

1

tbsp

minced fresh rosemary

1

tbsp

dried thyme

1

tbsp

dried oregano

½

tsp

salt

¼-½

tsp

pepper
Instructions
In a large bowl, toss potato wedges with oil.

Combine garlic salt, rosemary, thyme, oregano, salt and pepper.

Sprinkle seasoning mixture over the potatoes and toss to coat.

Arrange the potatoes in a single layer in a 15" X 10" baking pan coated with cooking spray.

Bake at 425 degrees for 40-45 minutes, or until the potatoes are tender, stirring once.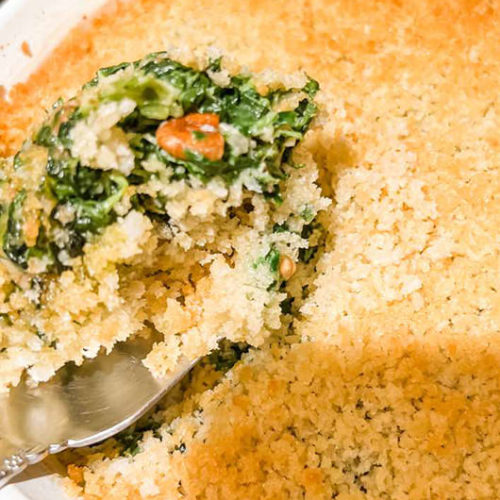 Spinach A La Jean
Ingredients
2

packages

frozen chopped or cut leaf spinach

4

tbsp

butter

2

tbsp

all-purpose flour

2

tbsp

chopped onion

½

cup

evaporated milk

6

oz

Pepper Jack cheese, OR 3 oz. Pepper Jack + 3 oz. Gruyere cheeses, cut into cubes

½

tsp

pepper

½

cup

vegetable liquid (from drained, cooked spinach)

¾

tsp

celery salt

¾

tsp

garlic powder

1

tsp

Worchestershire sauce
Instructions
Preheat oven to 350 degrees.

Preheat oven to 350 degrees.

Melt butter, add flour and stir over medium heat for 2 minutes.

Add onions and all liquids. Cook until smooth and thickened.

Add cheese(s), and cook until melted.

Combine with spinach, put in greased casserole.

Put in refrigerator overnight (best).

Set out 1 hour before cooking to bring to room temperature.

Bake at 350 degrees for 30 minutes.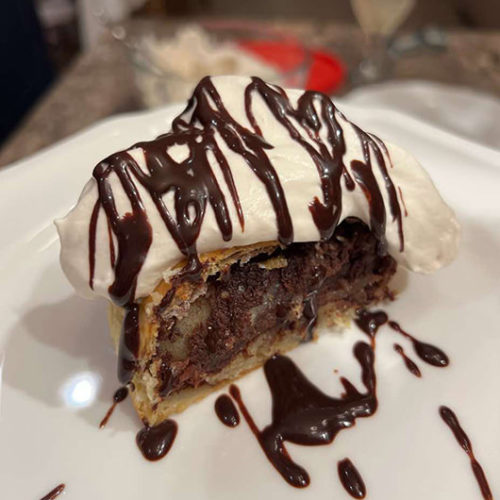 Chocolate Nut Strudel
Ingredients
½

package

Pepperidge Farm Frozen Puff Pastry Sheets (1 sheet)

1

egg, beaten

1

tbsp

water

4

squares

Baker's Semi-sweet Baking Chocolate, or 4 oz.

2

tbsp

milk

1

tbsp

butter

½

cup

finely-chopped walnuts or pecans

2

cups

heavy whipping cream

2

tbsp

Kahlua

1

bottle

dark chocolate syrup or sauce
Instructions
Thaw pastry sheet at room temperature until it safely unfolds flat. Do not tear at folds.

Heat oven to 375 degrees.

Mix egg and water in small bowl.

Microwave chocolate, milk and butter in large bowl on High 1-1/2 to 2 minutes or until chocolate is almost melted, stirring halfway through heating time. Stir until chocolate is completely melted. Depending on your microwave, you might have to add an additional 15 seconds to fully melt it. Be careful not to add too many extra seconds to avoid burning the chocolate. Stir after each heating.

Unfold pastry sheet on lightly floured surface. Roll into a 16" X 12" rectangle. Spread a thin layer of chocolate evenly on pastry to within ½" of the edges. Sprinkle nuts evenly over the chocolate.

Starting at short side, roll up jelly-roll style.

Place seam side down on ungreased baking sheet. Tuck ends under to seal. Brush with egg mixture.

Bake 35 minutes or until golden.

While baking the strudel, beat 2 cups of whipping cream in a chilled mixing bowl with beaters (or whisk attachment).  Chill bowl and beaters in the freezer for 30 minutes prior to mixing. 

When the cream starts to thicken, add the sugar and Kahlua, and continue to beat until firm.  Don't overbeat!  Makes 4 cups whipped cream.

Cool strudel for 30 minutes on wire rack.  

Slice and serve warm.  Top with a scoop of whipped cream, and then drizzle with chocolate sauce.