The decorations are packed away, the tree is down, but there may remain a remnant of the holidays, frozen in your freezer- left-over turkey. Here's a recipe to take that 'ol turkey to another level: Zesty Turkey Salad.
Spicy pickles, horseradish, and cumin come together in one taste sensation! And the recipe only has two steps! Ok, there is a little dicing, etc. but on the whole, its a snap.
You can serve it on lettuce leaves as I show here,or thinly slice a baguette and make mini sandwiches ready for lunch. I prepared this recipe for 8 so you'll have plenty protein to munch on for the week. Watch it, though, it may disappear faster than you anticipate!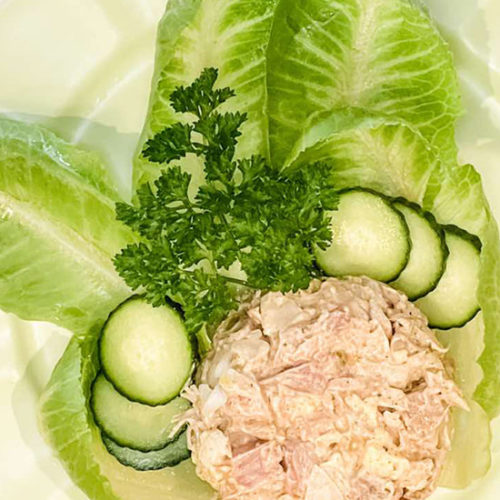 Zesty Turkey Salad
Ingredients
4

cups

cubed, cooked turkey

1½

cups

diced onion

3

microwaved eggs, chopped

⅓

cup

zesty pickles

½

cup

sour cream

1

cup

mayonnaise

4

tbsp

Dijon mustard

2

tbsp

prepared horseradish

2

tsp

paprika

1

tsp

pepper

2

tsp

cumin
Instructions
Combine the turkey, onion, eggs, and pickles in a large bowl.

Mix sour cream, mayonnaise, Dijon mustard, horseradish, cumin, paprika, and black pepper together in a separate bowl until smooth.

Stir sour cream mixture into turkey mixture until evenly coated.

Let sit in fridge for an hour or so before serving to let the flavors meld together.