This is the time of year that my garden Abounds with peppers I planted yellow, green and red peppers on purpose and now the beauty of the various colors is in full throttle!
Peppers can make a lovely and wholesome side dish especially when coupled with some mushrooms and onions.  Flavorful, easy to prepare, And full Of vitamins, I love serving this either along side a protein or adding some sausage for a one dish meal.  
If you don't have a garden you can just snag a bag or two of the multicolored peppers from H-E-B.  
Organic is a good choice for peppers if you are striving to eat "clean".  
So go ahead: pick a peck of peppers & sautée them up for dinner tonight!  Hint:  they really shine in a cast iron frying pan & you can serve them up straight from there.
😉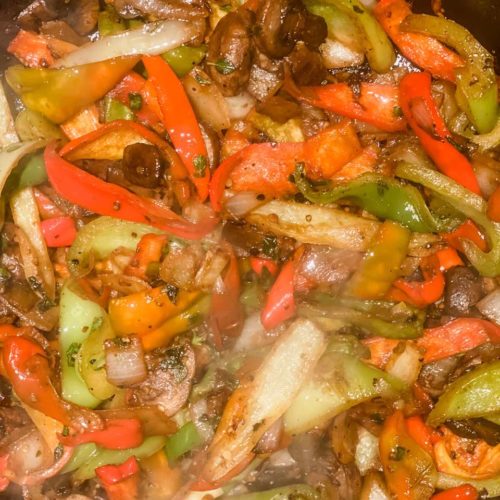 Sauteed Multi-Color Garden Peppers
Ingredients
¼

cup

Texas Olive Oil

1

tbsp

garlic

1

medium/large onion, chopped

8

oz

Baby Bella mushrooms, sliced

4

cups

loosely-packed 1/2" sliced Garden peppers

1

tbsp

chopped fresh basil (2 tsp dried)

1

tsp

fresh oregano leaves (1/2 tsp dried)

½

tsp

salt

1

tsp

Fiesta Coarse Black Pepper
Instructions
Add oil to a skillet, heating for 30 - 45 seconds on Medium High heat

Add garlic and sauté for about 45 seconds

Add onion and sauté for about 2 minutes

Add remainder of ingredients and stir for about 6-8 minutes
Notes
This is one of those dishes that is best served immediately. You will be rewarded by the rich aroma.
You can easily make this a one-skillet meal by adding a ring or two of smoked sausage. (Depending on how much protein you desire)