You've always heard about Meatballs and you think about that being an Italian dish. But, guess what: there's a Tex-Mex version! And guess what else: It's a one skillet dish! So, make this recipe, make a salad and you have dinner.
As long as I'm messing up the kitchen, I like to double this recipe for a later meal. I froze this recipe to take to a friend who was having a medical procedure a few days after preparation. It thawed out and reheated in the microwave like a charm.
A mixed green salad with avocado, onions, and a few crumbled chips is an excellent accompaniment.
Go Tex-Mex!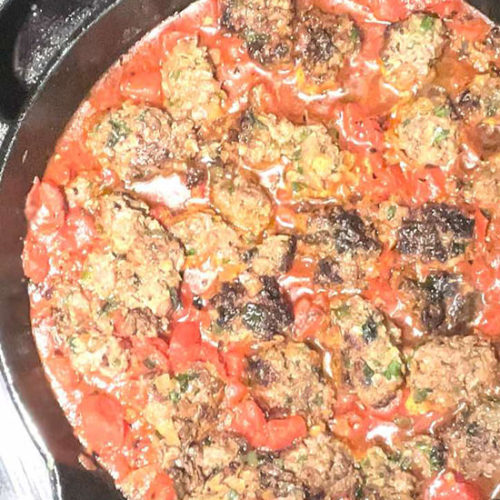 Tex-Mex Meatballs
Ingredients
2-4

tbsp

Texas EVOO

½

cup

onion, finely chopped

2

jalapeños, seeds removed and finely chopped

2

cloves

1

tsp each

cumin, smoked paprika, and oregano

½

tsp

salt

1

lb

grass-fed ground beef (preferably Texas beef)

¼

cup

crushed tortilla chips

4

tbsp

cilantro, chopped

1

28 oz can

fire-roasted tomatoes

1

tbsp

Adobo seasoning

½

tsp

sugar

Freshly squeezed lime juice and chopped cilantro, for serving
Instructions
Heat 1 TBSP of olive oil in a large skillet over medium heat. Add the onion, garlic, and jalapeños. Saute until softened, about 5 minutes. Add the cumin, smoked paprika, oregano and salt. Cook for another 2 - 3 minutes or until fragrant. Transfer the mixture to a plate and place it in the fridge to cool.

Once cooled, combine the sautéed vegetables with ground beef, crushed corn chips, and cilantro. Use your hands or a cookie scoop to roll the mixture into a 3 - 4 TBSP meatball, yielding about 12 meatballs.

Wipe out the skillet and return it to medium heat. Add another 1-2 TBSP of olive oil. Add the meatballs and cook until browned, about 2-3 minutes per side. Transfer to a plate and set aside

To the skillet, add the tomatoes, Adobo seasoning, sugar, and pinch of salt. Bring to a boil and add the meatballs. Reduce the heat to low and simmer gently for 5-10 minutes, until the meatballs are cooed through, but still a little pink on the inside.

Serve warm with a squeeze of lime and chopped cilantro.
Notes
When sealed in an airtight container, the meatballs and tomato sauce will keep for 4-5 days in the fridge and up to 2 months in the freezer.
I like to double this recipe - perfect to put one recipe in the freezer for another meal.