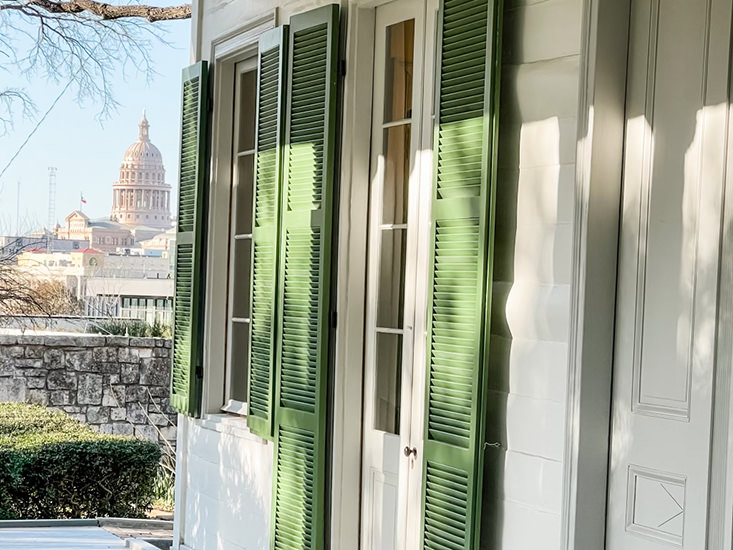 Perched on a hill in east Austin, with a laser view of the State capitol, lies the adopted center of current French culture in Texas. The oldest documented home in the former "Waterloo" township, was built as the home and diplomatic outpost for the French charge d'affaires to the Republic of Texas – Alphonse Dubois. France was one of the first countries to recognize the Republic of Texas as a sovereign nation.
Open 11 am to 4:30 pm, Tuesday – Saturday, the museum grounds are an ethereal retreat from bustling downtown Austin. A fun Saturday outing would be to arrive after 11:00 AM, grab lunch at the newly opened café, and then enjoy a stroll around the grounds and home. Newly restored, the home's interior offers significant historical context in the form of maps, written history, and pictures.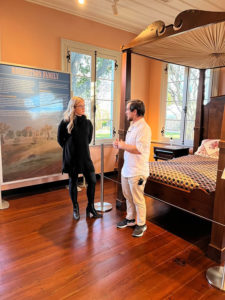 Texicureans caught up with Kyle Walker, Outreach Specialist for the Texas Historical Commission at the French Legation to get the skinny on colorful Dubois and his infamous "Pig War". (read more at Texicureans.com) Ultimately he washed his hands of this frontier town and headed back home to France, never actually living in the home he designed.
A few Texans with a French heritage have a regular Wednesday afternoon Petanque play date on a gravel court in the Legation's garden. Resembling Bocce, but played with steel balls, the goal is to throw them as close as possible to the target jack.
If you would like to create your own French lunch, Cindi Anthony of Dallas, shares recipes from the region of France where she spends a portion of each year.
Garlic Soup, inspired by the pink garlic of Lautrec, is yummy and has healing qualities as well. This is not a soup you would find in Paris or other large cities, but in the countryside where the famed pink garlic of Lautrec is raised.
The legend surrounding garlic soup is that it has the ability to cure hangovers and provide energy. Thus it is traditionally served the morning after banquets with heavy drinking, and to newlyweds the night of their wedding, as well as to grape pickers during the harvest season.
An ancient rural tradition in southwest France is to "faire chabrol" as you reach the bottom of a bowl of soup. The translation of "faire chabrol" is literally "drink like a goat." This involves pouring a little red wine to the remains of your soup and drinking it straight from the bowl. Today it is performed mostly by older folks living in rural areas, but it is still sometimes done elsewhere in a spirit of conviviality and friendship.
This recipe is for 6 and uses ingredients you probably already have in your kitchen. Give the "fair chabrol" a try!
Salad of Endive and Roquefort perfectly compliments Garlic Soup and stars the "King of Cheese" – Roquefort.
Find both recipes at texicureans.com and scroll down to watch a short video of our tour!