Cindi Anthony, Dallas resident, and lover of all thing's French shares this recipe. Cindi and her husband have spent part of the year in the southwestern corner of France for several years. This is not a soup you would find in Paris or other large cities, but in the countryside where the famed pink garlic of Lautrec is raised. This garlic makes a large clove and is so mild that you can grate it fresh to use in salads and other sauces.
The garlic is harvested in the Spring. It is laid out to dry and in early August and is braided for sale in the market.
The Village of Lautrec has a garlic festival that takes place on the first Friday of August to celebrate this famed crop. The highlight is making a huge vat of garlic soup for 3000 people, and everyone attending the festival can have a taste!
The legend surrounding garlic soup is that it has the ability to cure hangovers and provide energy. Thus it is traditionally served the morning after banquets with heavy drinking, and to newlyweds the night of their wedding, as well as to grape pickers during the harvest season.
An ancient rural tradition in southwest France is to "faire chabrol" as you reach the bottom of a bowl of soup. The translation of "faire chabrol" is literally "drink like a goat." This involves pouring a little red wine to the remains of your soup and drinking it straight from the bowl. Today it is performed mostly by older folks living in rural areas, but it is still sometimes done elsewhere in a spirit of conviviality and friendship.
This recipe is for 6 and uses ingredients you probably already have in your kitchen. Give the "fair chabrol" a try!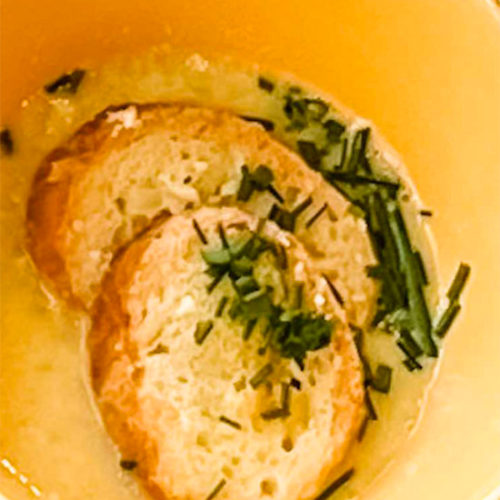 Country French Garlic Soup
Ingredients
1

medium yellow onion, finely chopped

20

cloves

garlic, minced (about 1/3 cup)

5

tbsp

olive oil (divided use)

4

eggs
For Garnish
Garlic croutons

Chives and/or fresh sage
Instructions
Heat 2 Tbsp of olive oil in a soup pot over a low flame Add onion and sauté lightly.  After a minute or two, add minced garlic and stir until garlic and onion are soft, being careful not to brown the garlic.

Add chicken broth and simmer for 20 minutes.  Remove from heat and allow broth to cool a bit.

While the broth is simmering, separate eggs, adding yolks to a small mixing bowl.  Slowly drizzle remaining 3 Tbsp olive oil into the yolks, whisking as you go.  Add a few tablespoons of cooled broth to the yolks, making a liaison.  The goal is to have the egg yolks and the broth in the pot close to the same temperature so that the eggs don't cook when they are added.  Gradually add the egg yolk mixture to the broth. Whisk or use an immersion blender.  Continue whisking/blending and add the egg white. Reheat gently but do not let the mixture boil.

Place garlic croutons in the bottom of each soup bowl, and ladle hot soup over the top. Garnish with snipped chives, chopped fresh sage and a grind of fresh pepper.

Bon appetit!