Roquefort cheese is considered the "King of Cheese" in France. It was the first cheese to actually have an AOC designation. Appellation d'Origine Contrôlée, or AOC, is a French food-labeling term that protects the style, ingredients, and origin of a product. The milk has to come from a certain breed of sheep called Lacaune Sheep. The sheep have to be raised within a radius of 60 miles of the village of Roquefort. The milk must be collected and delivered to the cheesemakers within 24 hours. At that point it is treated with rennet and a special bacteria called penicillin roqueforti.
A fun legend is that Roquefort Cheese was first discovered by a shepherd who was in one of the Roquefort caves who took a break and had a sandwich of rye bread and cheese. He saw a beautiful shepardess wandering by and thereby followed her out the cave.
He came back 3 – 4 weeks later to discover that his sandwich had formed mold, but in the cheese were these beautiful blue veins which are typical of Roquefort cheese. So that is the legend of how Roquefort Cheese was first discovered.
In fact, the village of Roquefort is built on a plateau where there are some huge natural caves that have fluerenes which allows cool air from the outside to ventilate the cave. So in the cave, penicillin is produced naturally. So they will place rye bread in the caves and allow it to grow the penicillin which they will then use to inject in the cheese. In modern times, laboratory techniques are used to create the penicillin, but it is still the same technique that has been used for hundreds of years.
The milk arrives, its treated with the bacteria – rennet. The whey is placed into bowls which are penetrated with spikes of metal which allow more air to circulate. They are treated in salt and left to rest on a shelf for 3 – 6 months. To be called Roquefort cheese, it must be from this village and go through this specific procedure. It's considered to be one of the greatest delicacies among cheese.
This salad highlights Roquefort cheese and is served on Endive, which is a popular lettuce in France. It's a little easier to find in the winter here in Texas.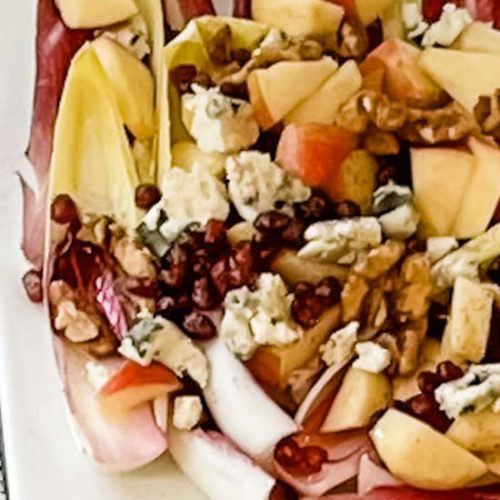 Salad of Endive and Roquefort
Ingredients
3-4

heads

endive – a mixture of red and green makes a colorful salad

4

oz

Roquefort or other blue cheese – the creamier, the better

1

Apple, chopped

½

cup

Candied walnuts, chopped

½

cup

Pomegranate seeds

4

tbsp

French walnut oil – I find French walnut oil to be much more flavorful
Instructions
Trim the base of the endives and fan the leaves on the serving platter so that they overlap.

Spread chopped apple and crumbled Roquefort evenly over leaves.

Sprinkle with candied walnuts and pomegranate seeds. 

Drizzle platter with walnut oil.  Give it a good grind of salt and pepper. Enjoy!