Texas Sheet Cake with a little spice take the form of cupcakes for an easy grab an go serving at a get-together. This is a classic staple in Texas kitchens and at events with family and friends. Lady Bird Johnson was even known to serve Texas Sheet cake to guests at the Stonewall Pedernales ranch on a regular basis. Adding cayenne pepper and a little bourbon in the icing give it that punch of taste.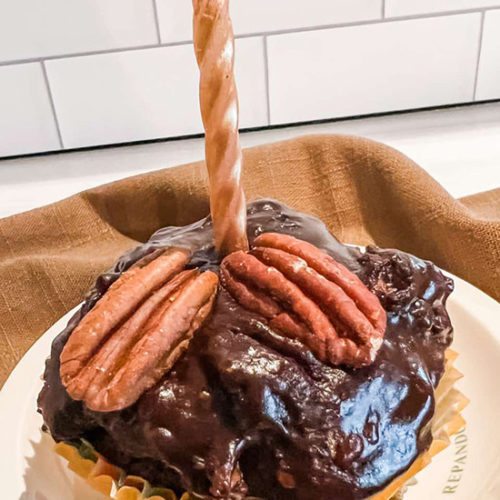 Texas Sheet Cake Cupcakes
Ingredients
For the cake:
2

sticks

unsalted butter

2

cups

unbleached Texas flour

2

cups

Imperial Sugar

1

tbsp

ground cinnamon

¼

tsp

cayenne pepper

½

tsp

sea salt

¼

cup

dark cocoa powder

1

cup

coffee, boiling hot

½

cup

buttermilk

2

whole eggs

1

tsp

baking soda

1

tbsp

vanilla extract
For the icing:
14

tbsp

unsalted butter

4

tbsp

dark cocoa powder

1

tsp

ground cinnamon

¼

tsp

cayenne pepper

4

tbsp

whole milk

1

tbsp

vanilla extract

3

cups

powdered sugar

2

tbsp

Bourbon

1

cup

chopped, roasted pecans
Instructions
Preheat oven to 350 degrees F. Roast pecans on a baking sheet for 7 minutes.

If using a 13 x 8 pan, line with parchment paper and butter the top of parchment paper. If making cupcakes, line with cupcake papers.

In a large mixing bowl, combine the flour, sugar, cinnamon, cayenne and salt and set aside.

In a medium saucepan over medium heat, melt the 2 sticks butter. Add the cocoa powder and stir. Add the boiling hot coffee and stir to combine.

Pour the mixture over the dry ingredients and stir. Let cool for about 5 minutes.

In a medium bowl, pour the buttermilk and add beaten eggs, baking soda, and vanilla.

Stir the buttermilk mixture into the butter/chocolate mixture.

Pour into a sheet cake pan or cupcake pans (makes 36) and bake art 350 degrees for 20 minutes (sheet cake), or 15 minutes (cupcakes)

While cake is baking, make the icing. Chop roasted pecans. Melt butter in a saucepan. Add cocoa, and stir. Remove from heat. Add milk, Vanilla, powdered sugar, cayenne pepper, and bourbon. Stir in pecans. Spoon onto cake or cupcakes.
Notes
I have frozen this cake with great success. It is nice to cut into squares, place on a plate, and freeze. Let thaw for a quick dessert.