This is where the creaminess of pumpkin filling meets the crunchy sweetness of pecans in one dreamy slice.
I actually tell you how to prepare a fresh sugar pumpkin – those small couple-pound pumpkins sold specifically for this purpose.  The freshness of roasted pumpkin pulp can't be beat.  You can even roast it a day ahead so it's ready for you.  (If you must:  Canned pumpkin puree may also be substituted – however, do not use pumpkin pie filling)
At a time of year when pecans are in so many recipes, you might consider roasting up extra to have on hand as an additional snack.
After roasting the pumpkin and pecans, this is a 2-step filling – mixing together the pecan topping and beating together the pumpkin filling.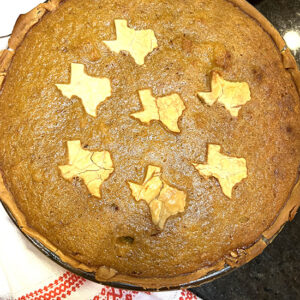 The Three P: Pumpkin Pecan Pie
Ingredients
1

Sugar pumpkin

1

Refrigerated pie crust
Pecan Topping
2

cups

halved Texas pecans

1

cup

brown sugar

8

tbsp

butter
Pumpkin Filling
1 ¾

cups

freshly roasted pumpkin pulp (not canned pie filling)

2

large

eggs

1

cup

cream

¾

cup

maple syrup

1

tsp

cinnamon

1/2

tsp

ground ginger

1/2

tsp

nutmeg

1/2

tsp

kosher salt
Instructions
Cut the pumpkin in 1/2, remove the pulp and seeds, anyplace cut side down on a parchment-lined baking sheet.

Bake pumpkin until fork tender, about 30 minutes. After cooling for a few minutes, scoop out pulp from rind. You also may be able to peel the skin from the pulp. Reduce oven to

300

°F

for pecan roasting,

Place pice crust in a deep dish pie pan. St in fridge.

Spread pecans out on a baking sheet covered in parchment paper. Bake for 10 minutes, remove from oven and stir, and place back in oven for another 10 minutes.  After removing, set oven back to 425. Let cool.  Finely chop.

In a medium bowl, stir together brown sugar and melted butter.   Stir in pecans.

In a large bowl, beat together the pumpkin pulp, eggs, cream, maple syrup, butter, and spices. 

Spread the pecan mixture on the bottom of the pie crust.  Pour the pumpkin filling on top.

Bake at 425 degrees for 15 minutes on the bottom rack.  Reduce temp to 350, place pie on middle rack and bake for additional 35-45 minutes.  Pie is ready when reaches an internal temp of 170 degrees or is slightly jiggly in the center but firm around edges.

Cool to room temp and then chill in fridge for up to 3 days.
Video
Notes
1.

 

You can substitute 1/2 and 1/2 for the cream.
2.

 

Great pie to prepare ahead and freeze. (Be sure and wrap in both plastic and aluminum foil).

 

Thaw overnight before serving.