It's that "tweener" time of year – from repressively hot to intoxicatingly cool: The fresh aroma of mornings with a cup of coffee in hand, donning a hoodie when headed out for a morning workout, and basking in the sun over the noon hour: early autumn in Texas means sunny days and cool nights. In the Texas garden, this means summer quash is still available and carrots and verdant greens become of age. I call this soup "Early Fall Soup" as it incorporates both seasons.
Make a pot for dinner, share some with a neighbor, and create quick personal lunches by pouring in 12 oz cups, wrapping with saran wrap and freezing in the door of your freezer.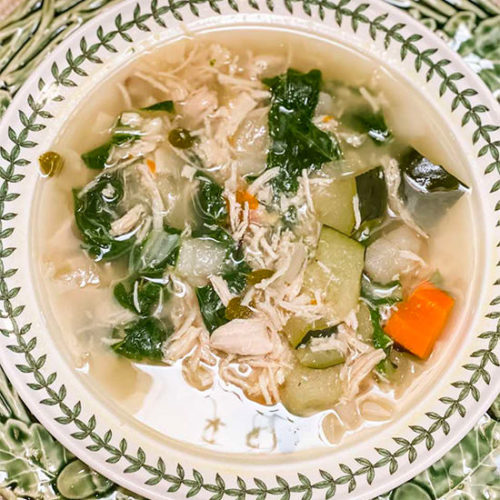 Early Fall Chicken Soup
Ingredients
4

chicken breasts

2

large red potatoes

1

lb

carrots

1

large pattypan squash (or zucchini)

6

small turnips

48

oz

chicken broth

1

large yellow or white onion

3

garlic cloves

1

tsp

salt

1

tsp

pepper

6

fresh oregano stalks - 6" (remove leaves)

3

fresh rosemary stalks - 6" (remove leaves)

1

bokchoy
Instructions
Boil chicken breasts in 8 cups water for 30-40 minutes, remove breasts with tongs & shred with a fork. Place in refrigerator. Reserve broth.

Cube squash into 1" pieces

Dice potatoes into approx 1/2 " cubes

Slice carrots into 1/2" slices

Thinly slice turnips, then dice

Place all (except chicken) above in pot with chicken broth & reserved broth.

Remove leaves from oregano & rosemary & add along with salt & pepper to pot.

Cook on medium for 20 minutes.

Add sliced bok Choy & cook additional 7-8 minutes.