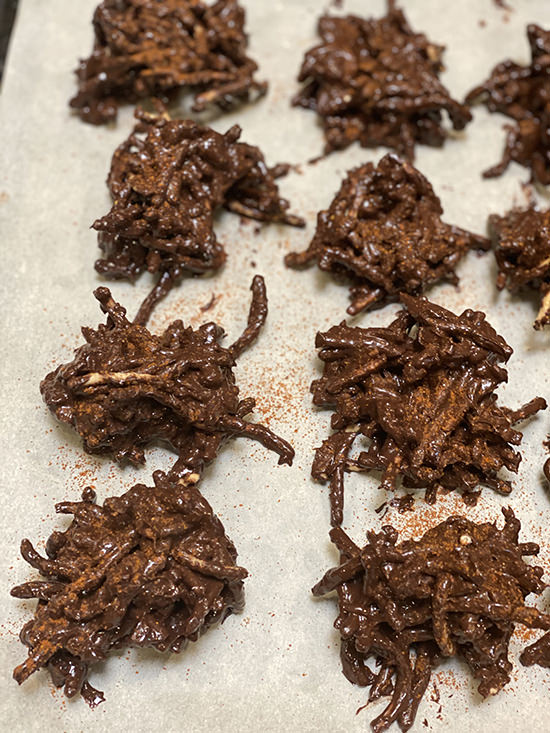 Although we may not have a tremendous amount of Fall Color in Texas, the cooler weather conjures images of haystacks, pumpkins, and chrysanthemums. A sweet culinary rendition of these musings are "Haystacks". This chocolate version (if its not chocolate, it's not desert, right?) has a spicy element. You can leave out the cayenne sprinkle for kids, and for those special little trick-or-treaters in your life, they easily wrap individually.
I recently had these available as an after dinner treat for a family gathering that included several college students. They did a quick disappearing act . (I secretly had craved one for breakfast the morning after, and there were none to be found)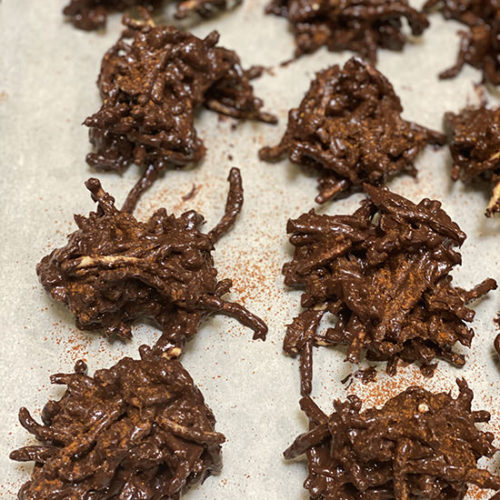 Spicy Chocolate Haystacks
Ingredients
24

oz

dark chocolate chips

12

oz

package chow mein noodles

1 ½

cups

walnuts

1

tbsp

cayenne
Instructions
Prepare two sheet pans with parchment paper

Chop walnuts with a chopper or with a knife into fairly medium pieces.

Melt chocolate chips in a large glass bowl for about 3-4 minutes in microwave, stirring every minute.

When completely melted and fluid, add chow mien noodles and walnuts. Stir.

Scoop tablespoonful of mixture and use another spoon to drop onto parchment paper.

Pour cayenne pepper into a tea strainer, and lightly dust with pepper.

Place in freezer fo 10 minutes to firm and be able to store in an airtight container.