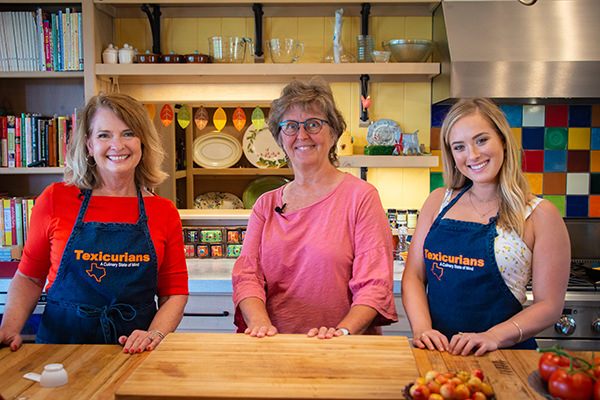 The Texicureans team had an exciting day in the kitchen with Lou Ann Smith and her family. We explored some of her favorite family recipes, including her dad's chili and her nanny's cornbread, and talked Texas traditions in her beautiful kitchen in the family home in the Texas Hill Country near Hunt, Texas.
Lou Ann and her husband are avid gardeners and raise chickens and goats on their rural acreage, and the family's love of food has inspired the next generation likewise.
Click the YouTube window below to watch the video and scroll down for both the chili and cornbread recipes!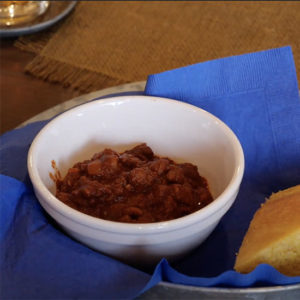 Lou Ann's Daddy's Chili
Ingredients
2

lbs.

lean chuck roast, cut into chili-size pieces (ask your butcher to do it so you can select the chuck roast)

1

medium onion

1

tsp

ground cumin

1

tsp

black pepper

1

tsp

salt

5/8

cup

chili powder

2

cloves garlic

1

small can tomato paste

2.5

cups

water
Instructions
In a large pot, brown the chili meat. When no longer pink, add onion and continue cooking until slightly browned. 

Stir in the cumin, pepper, salt and chili powder. Cook until spices are fragrant. 

Add the garlic, tomato paste and water and cover. 

Simmer for 25-30 minutes or until meat is tender.
Notes
This is really best the next day.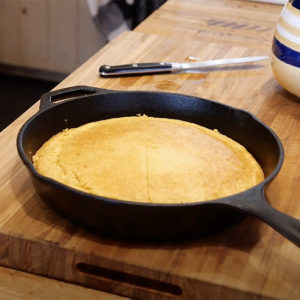 Lou Ann's Nanny's Cornbread
Lou Ann Smith's Nanny's Recipe, adapted from Better Homes and Gardens Cookbook, 1941 edition
Ingredients
3/4

cup

flour

1

cup

coarse ground cornmeal

1

tsp

salt

3

tsp

baking powder

2

tbsp

sugar (optional, depending on your taste)

2

well-beaten eggs

1

cup

whole milk

1/4

cup

melted butter (original recipe used shortening)
Instructions
Preheat oven to 400 degrees

Put cast iron skillet into oven to heat for about 15 minutes before beginning the recipe.

Stir dry ingredients together in large bowl. 

Separately, combine eggs, milk and melted butter or shortening. Add to dry mixture and stir just until moistened.

Remove skillet from oven and pour cornbread batter into skillet. Return to oven and bake for 18 - 20 minutes or until golden brown and beginning to pull away from the sides of the skillet.