My friend M'Lissa Steel has deep roots to Fayette County. Her Great-Grandfather, William Loessin was Sheriff of Fayette County from 1925-1946. Even before that, her Great Great Great Uncle, August Loessin, was the Sheriff. My own Dad spent some time at the historic courthouse as a Federal Social Security Claims Representative as well. Walking around the square with her affirmed the saying is in fact true about everyone knowing your name in a small town. Hugs all around! 
Pecan season is here! Celebrate with this authentic and legendary recipe from the Chicken Ranch. Yes, that Chicken Ranch. M'Lissa's Great Uncle Bill was hired as caretaker of the property after it was closed. This recipe is attributed to Miss Jesse, one of the first Proprietors. Remember earlier I said to grab as many pecans as you could? This recipe calls for 2 lbs.! It is certainly a celebration of our Texas State Tree – the Pecan. Happy Baking!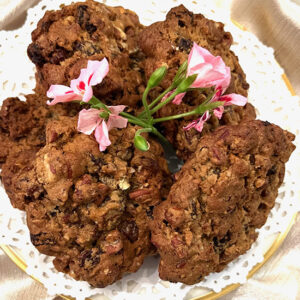 Best Little Cookie in Texas
Ingredients
4

eggs

2

Cups

sugar

8

cups

chopped pecans

2

tsp

cloves

2

tsp

cinnamon

2

tsp

soda in a little water

1

lb

chopped dates

1

lb

raisins

1 1/2

cup

melted butter

3

cups

flour (or slightly more)
Instructions
Preheat oven to 275 degrees

Beat eggs well.  Add sugar and stir.  Add cinnamon and cloves.  Stir.

Add chopped dates, pecans, raisins, and butter.  Mix well. Add Soda.  Then mix in flour, a little at a time.

Drop 4 -5  mounds on greased cookie sheet.  Bake and test a few cookies to see if more flour is needed.

Bake in slow oven - 275 degrees, 30 - 45 minutes.  This will depend on size of mounds.  Original recipe said 20 minutes, but this isn't quite enough.  Perhaps it was a wood burning stove originally………
Video
Notes
Enjoy!

 
OK

 

- this is a good time to divulge that I LOVE cookie dough!!! 🙂