It's Summer in Texas, Y'all! One of the first crops in the garden in cucumbers.
This recipe holds a special memory of staying with my Grandma on her farm and walking out into her huge garden to pick veggies for supper. (Dinner is the term for lunch on the farm).
Since her farm house wasn't air conditioned, this cool cucumber salad was literally an elixir for the heat. I love the creaminess of the sour cream and the tartness of the vinegar in this recipe. If you keep greek yogurt on hand, you can also substitute for the sour cream.
Organic, hydroponic or cucumbers from your garden don't need to be peeled. I use a mandolin that can be adjusted for thickness. My grandmother sliced them razor thin; I tend to go slightly thicker.
Also, Texas sweet onions can be substituted for the red – you just won't have as much color. My friend, Cathy, adds pimientos for color.
Keep a couple slices to place on your eyes for a quick spa treatment!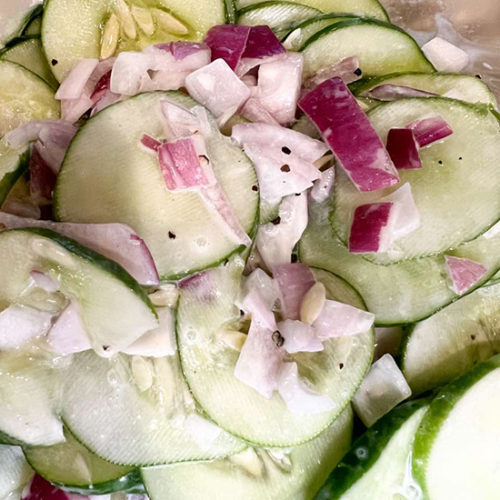 Grandma's Cucumber Salad
Ingredients
2

large cucumbers, sliced thin

1

red onion, diced

2

tbsp

white vinegar

2

tbsp

honey

2

tbsp

sour cream

1

tsp

salt

½

tsp

cracked black pepper
Instructions
Combine cucumbers, onion, vinegar, honey, sour cream, salt and pepper in a bowl.

Cover the bowl with plastic wrap and refrigerate until chilled, 20 minutes or so.
Video
Notes
If you use organic cucumbers, or pick them from your garden, you don't need to peel.
I use a mandolin to slice the cucumbers, but a food processor will work as well.
Greek yogurt can be substituted for the sour cream.