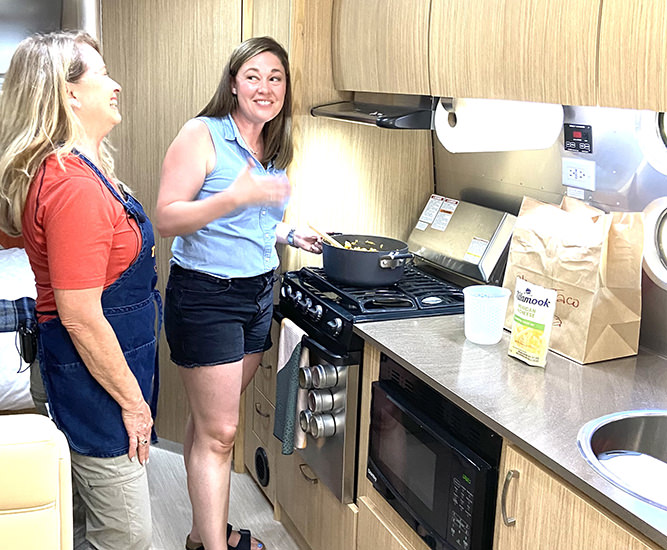 Being prepared makes hitting the trail so much easier and faster.  Whether you are a tent camper or RV'er, having a list of basic items assures you'll be ready to take off for adventure!
Megan Traeger shares her list of staples she keeps in her RV.  If you are a tent camper – you might keep a plastic box  stocked with essentials.
Happy Exploring!
Must pack in the kitchen of the airstream:
S'mores ingredients (if you want to skip out on extra packing, buy the Keebler's fudge stripe cookies. Chocolate and graham crackers in one.)

Kreutz Pancake mix (with mixin's like fruit or pecans or chocolate chips)

H‑E‑B trail Mix (everybody can grab their flavor of choice and they come in resealable bags!)

Pasta (probably the most versatile thing I carry. I can add red sauce or just olive oil, or I can add cheese and taco seasoning. I can cook a cup of it or cook the whole bag and save the rest for leftovers.)

Cereal (for those mornings that we need to quickly pack up. Our kids will typically pour cereal into a cup, and some milk and a spoon and take it to the truck for on the go breakfast.)

Hot sauce and Tortilla chips (no further explanation needed. We do love grabbing salsas or queso when we stop at different places to try their stuff.)

Tortillas (another versatile item. I can make breakfast tacos, or quesadillas with leftover chicken or beef from the night before. Or I can heat them up, add some butter and sugar and call it dessert.)

Bread (I don't skimp on my bread so I always buy Dave's Killer Bread. I have yet to NOT find it when traveling!)

Fritos and bean dip (this is a don't ask don't tell snack.)

PB/J (sometimes you make sandwiches for your kids. Sometimes you just make them for yourself. I'm also a huge fan of packing Justin's peanut butter packets for hiking snacks. And jelly will be used at breakfast sometimes too)

Granola (we buy the Bear Naked cacao and Cashew butter bag. I can eat this for breakfast, snack, or dessert. I typically will toss it with some Greek yogurt.)

Dried fruits (hours in the car can lead to useless snacking. Might as well eat some dried mango or banana chips!)

Pita chips (clearly can be used with some hummus. But the other day I had tomatoes, mozzarella, basil, and balsamic vinegar. I used the pita chips as my base for all of it and they were perfect bite sized bruschettas.)

Olive oil

Salt and pepper grinders

Coffee (we love that when we travel we can find some really great and unique roasters throughout the country.)
Milk (for cereal and kids)

Creamer (for coffee to deal with kids)

Eggs (I usually only pack half a dozen for space saving.)

Peppered Bacon from Granzins (sometimes I'll make this to go with pancakes, or in breakfast tacos. One time I threw it in cabbages that we were taking to a potluck. Or I can smear some Nutella on it for dessert. Best bacon I've ever eaten!)

Butter

Sandwich condiments 

Lunch meat and cheeses

Fruits (we eat a ton of fruits so this is a revolving door. It's especially fun to get local produce that is native to an area.)

Hummus

Bell peppers (slice them up to throw in a omelet. Slice them up to dip in hummus. Or slice them up to sauté for dinner.)

Sparkling waters

Pound of ground beef 

Shredded Cheese (another thing that can be added to a ton of things.)

Sausage (use it for breakfast, snacks, or dinner.)

Large Greek Yogurt (at home I hardly buy the big containers of yogurt but on the road we always have one in the fridge.
Quick and fun breakfast
Banana split breakfast
Cut banana in half, scoop in yogurt instead of ice cream
Top with fresh fruits and granola
Sometimes I'll add some chocolate chips or sprinkles to the girls.
On the run lunch hack
I always buy paper food boats. That way if we are in a pinch, I can throw a sandwich and some goldfish and some fruit gummies in a tray and call it lunch for the kids. In the adults trays I may cut up some bell peppers and scoop in some hummus to take in the car. Easy clean up.
Dinner suggestion
When planning your dinners be mindful of how many dishes you are getting dirty. I like to simplify and try to stick to one pot meals if possible. I'll load the ingredients into a paper bag to keep them all together in the fridge. This then becomes my trash bag as I cook.
After dinner space saver
If I know I'm making chicken or beef and may possibly have extras, I'll cook all of it and then put the remainder of the cooked meat in single compartment meal prep containers (from H‑E‑B) to keep in the fridge. I can reheat the meat the next day and add it to lunch as a quesadilla or to top a salad.