Spanish Mission Trail and Soup
This next Texicureans adventure is full- out-fun. We biked the Spanish Mission Trail, stopped at a brewery, and topped it off learning how to make authentic Spanish soup from Maite Aguirre-Ortega. Our loyal readers may have noticed a trend in these articles. Texicureans' mission is sharing the rich history of Texas by way of food. That's why we are reporting back from unique to Texas locations and pairing them with cultural recipes. We hope to give you a glimpse of adventure and inspire you to join the journey.
Biking the Spanish Missions
I live for exercising outdoors and I'm a student of Texas history. Combine the two and I'm hooked. I bike this trail every year in the beautiful Spring air; it's the best time to go in my opinion. From the moment you hit the trail, you immediately leave the noise of the city and enter a quiet, almost rural scene.
The San Antonio Missions are a National Park Service site, and the only UNESCO World Heritage Site in Texas. The trail is wide along the San Antonio River with small elevations and markers to guide riders. My perfect day is to head south on the Riverwalk Trail to visit three of the missions: Mission Concepcion, Mission San Jose, and Mission San Juan (about a 16-mile round trip).
Each Mission has its own distinct beauty and stories. Remarkably, all four of the mission sites still contain active catholic parishes! If you hit it right, Mission San Jose, the Queen of the Missions has ranger led walks at 10 am and 11 am. Ranger-led talks at Mission San José are offered at 2:15 pm and 3:15 pm. These talks last for 15-30 minutes and can give you a great overview of the park.
Typically, I tour the missions on the way down the trail and opt for a straight return trip back up to the King William Area and Blue Star Arts Complex to return the bikes.  A welcome site is the Blue Star Brewing Company Restaurant.  With outside seating you can still enjoy the spring air while dining.  A perfect ending to a perfect day!
Tip: Rent your bike
The first time we took our own bikes, but ended up with flat tires, so now I park right in front of Blue Star Bicycling Company and rent one of their well-maintained bikes for a day.  They have a choice of several styles, including e-bikes and cruisers.  They will fit you for the bike appropriate for your size and provide a basket for snacks or picnic items. There is a 5-pound limit for safety purposes – I learned this and had to leave a few items behind.  Be sure and bring water – a holder for water bottles is on each bike as well. I recommend arriving by 10:00 AM or so to rent your bike.  This will assure bikes are available for your party.  It will also give you plenty of time to tour the missions – which I never tire of exploring. 
While the historic beauty of the missions is breathtaking, the taste of an authentic Spanish recipe prepared at home is transformative. Food is family. Family is culture. Culture is history. So, come along with us into the kitchen where we learn how to make Salmorejo.
Salmorejo Soup
In the kitchen with Maite Aguirre-Ortega from Alsasua, Spain, we learned how to make her favorite warm day soup – a chilled tomato soup called Salmorejo. Requiring only ripe tomatoes, olive oil, garlic, and bread – this recipe is a snap to make in a blender.  If you use the optional toppings of diced hard-boiled egg and serrano ham, you have a meal. The full recipe and video tutorial can be found on www.texicureans.com.
Maite shared she has yet to visit the Missions that her homeland established so many years ago but plans to go soon with her new bike! She now lives in Austin with her native Austinite husband, Ryan. Not surprisingly, they say a Texas version of Salmorejo would be to add brisket as a topping. Sounds great to us! Que Aproveche! (Let's eat!)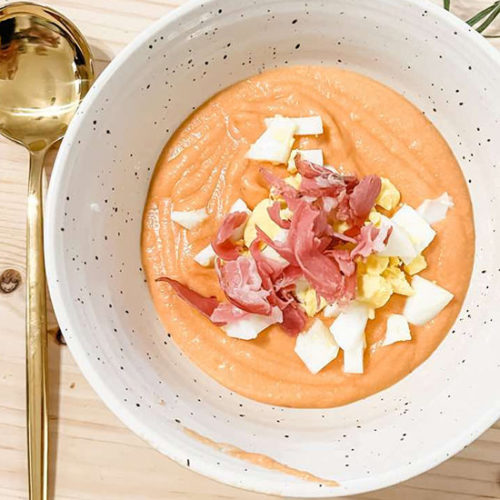 Salmorejo
Ingredients
8

red, ripe tomatoes (2.5 lbs)

7

oz

stale bread

1

cup

EVOO

1-2

garlic cloves

1

pinch

salt

2

hardboiled eggs

diced Derrano ham or other cured ham
Instructions
Pull the bread apart into pieces.

Place the tomatoes in a blender and blend until completely pureed.

Pour the blended tomatoes into a colander using a steel spoon to clean the blend from the tomato seeds.

Put the bread in the blender and pour the clean tomato blend on top of it. Let sit for 10 minutes.

Add the garlic, olive oil, and salt. Blend until smooth.

Refrigerate for 2 hours (this is the hard part)

Serve the Salmorejo with hard-boiled egg and cured Spanish ham, or prosciutto. Note to Texans: Chopped brisket works great!
Notes
Notes from Maite:
 
Tomatoes: The key to a good Salmorejo is to use fresh and very juicy tomatoes. We like using vine tomatoes but you can also use pear tomatoes.
 
Olive Oil: The recipe calls for a good amount of olive oil and so its important to use a god quality product. The olive oil can really change the flavor of your Salmorejo, so we encourage you to find your favorite one. Buying EVOO is a good rule of thumb. For our recipe we used Dominos Oil from South of Spain. We bought it online from a shop called The Olives Market in Buda, TX.
 
Garlic: Even if we love it in Spain, garlic is not for everyone. Feel free to start your recipe garlic free if you prefer. Don't allow this small ingredient stop you from tasting one of the best cold soups that exists: If you like garlic - between one to two cloves gives you that perfect garlic punch that we adore in our palates.
 
Bread: the reason behind Salmorejo's thick texture. For our recipe we used French Bread from HEB, stale bread or any bread with a dense crumb ratio will work. And remember, if you want a thiner soup just put less bread but if you want a ticker one, go wild. Just know that it'll make your blender work double!