A cowboy and a word slinger walk into a test kitchen in Giddings, Texas. Frank Malinak III and Lorie A. Woodward, respectively. They are equipped with a pound of Lee county's finest ground beef and wild game meat from a medium size Nilgai (also known as a South Texas Antelope). They come locked and loaded with stories of Frank's service with the Texas Rangers and a deep reverence for the land and people that sustain Texas communities.
This is a story celebrating 200 years of Texas Rangers history. Because of the time tested service of the men and women of the Texas Rangers, our small group of Texans had the freedom to share a meal in comfort. Actually, the ultimate comfort food – chili.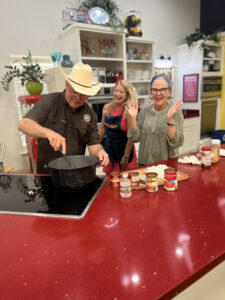 At Gourmet Divas' fabulous kitchen store and demonstration kitchen, I had the absolute pleasure of catching up with Frank Malinak III, Assistant Chief Texas Rangers, Retired in Giddings, Texas. Moving through the distinguished ranks of the Ranger organization, Frank ended his career as second in command – Assistant Chief.  He is now County Judge of Lee County. You see, Frank and I both have roots in Lee County, our Great-Grandfathers Will and Englebert Reuther were brothers. So I asked him, what would a Texas Ranger cook?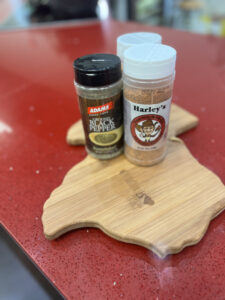 According to the Texas Ranger Hall of Fame and Museum in Waco,  everything we know about the earliest days of the Texas Rangers comes from memoirs of individuals who served. The Texas Ranger Hall of Fame and Museum preserves history through pictures, stories, and memorabilia. According to the TRAF, "During the early years of the Frontier Battalion, the battalion's quartermaster supplied each Ranger company with a set ration consisting of flour, bacon, beef, coffee, sugar, salt, soda, soap, vinegar, pepper, candles, potatoes, onions and rice. A ration was the amount of each of these items an individual Ranger would consume in one day, and the company orderly sergeant was required each month to write out a list of how much was on hand of each item. Many accounts mention the ease of finding wild game and fish."
Now, back to our modern kitchen in Giddings. Wild game? Check. Beef? You bet. Get Frank's "On the Trail" Chili recipe at the bottom of this article and watch our cooking episode on our Texicureans youtube channel. 
Sometimes the best recipe is knowing where your ingredients come from and cooking them up the way only you know how. Bonus if you're in the kitchen with people who share your traditions. There is beauty in consistency. There is longevity in honoring the basics. 
Frank said it best, "Ranger history is framed by traditions going back 200 years, including our unmistakable western heritage. The pathway of our future is made all the brighter by those who walked before us. Nothing is so powerful as knowing past generations are counting on you to accept the baton and carry it forward. I hope future historians look back at our time and see an unbroken chain of dedicated men and women who wear a badge that stands for justice and freedom." 
200 Years of Texas Rangers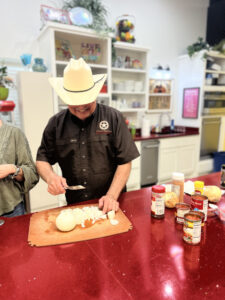 Assembled in 1823 to protect the early settlers of Texas, Stephen F Austin was given command of this legendary law enforcement agency.  Drawing on their collective skills, Native Americans, Tejanos, Anglo-Europeans, and African Americans signed up to "range" and protect the colonies.  Hence it was said that a Texas Ranger could "ride like a Mexican, trail like an Indian, shoot like a Tennessean, and fight like the devil."
Legendary Texas Rangers John Coffey Hays, "Bigfoot Wallace" and William McDonald helped form the enigma of the Texas spirit.  The Institute of Texas Cultures states that "Next to the Alamo, the Texas Ranger is the best-known part of the Texas Legend…"
This legacy continues with training that is considered second to none, for the 172 highly selected men and women who proudly wear the boots, white hats and pistol belts of their predecessors.  And of course, there is that iconic Cinco Peso badge.   
"The Texas Rangers are among the most revered law enforcement divisions in the country for a reason.  The elite and storied Rangers are men and women of integrity and moral fortitude, willing to risk their lives in selfless service to the state of Texas".  Steve C McGraw, Director, Texas Department of Public Safety 
Organized into 6 companies: Company "A" Houston, Company "B" Dallas, Company "C" Lubbock, Company "D" McAllen, Company "E" El Paso, Company "F" Waco, and Headquarters in Austin.  The Rangers continue the traditional jobs conducting criminal and special investigations, apprehending wanted felons, suppressing major disturbances, protecting life and liberty, and rendering assistance to local law enforcement officials. 
A Special Operations Group has been formed in recent years to counter terrorist activity, criminal threats, and drug trafficking organizations. 
Explains Lacy Finley, executive director of the Texas Ranger Association Foundation, "We know these things about their service:  There is no time off, one Late-night call easily becomes many more, Rangers find themselves in difficult situations, they have a servant's heart, and could easily have followed careers in the private sector."
The enigma of the Texas Ranger has inspired novelists, actors, and film-makers.  The Lone Ranger, Walker, Texas Ranger, and Lonesome Dove have all dramatized the heroic mystic of the Texas Ranger.  In the 1936 movie The Texas Rangers, Fred Mac Murray who portrays a Texas Ranger is met by leading citizens who are alarmed that there is only one Ranger to clean up their town.  "Only one fight, ain't there?" replies McMurtry in a paraphrase of the famous "One riot, one Ranger" line.
Texas Rangers are a seamless, selfless, ambassador for our way of life back to the earliest days. Can of beans and all. Thank you for your service, Frank, and reminding us what Texas cooking is really all about — the people you're feeding.
For more Texas recipes, tips, and stories, sign up for our recipe club emails and follow Texicureans on all social platforms.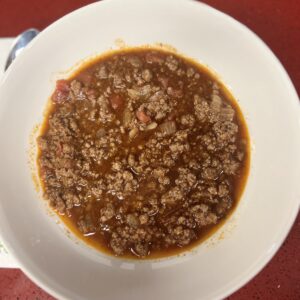 Ranger Frank Chili
Ingredients
1

pound

ground beef

1

pound

game meat

2

onions

chopped

2

8 oz

tomato sauce

2 cans

1/2

can

petite diced tomatoes

1/2

can

rotel tomatoes

chili powder

several shakes to taste

1

tsp

garlic powder

1

tsp

black pepper

Harley's seasoning from Giiddings, Texas

or sub with fajita seasoning to taste

1

cup

water
Instructions
Brown meats with chopped onion

add tomato sauce, petite diced tomatoes, rotel tomatoes and stir

add chili powder, garlic powder, pepper, seasoning and stir

add 1 cup water and cook, stirring for about 10 minutes
Video