Click here to watch the video!
This simple piece of tape says so much – I pulled out this pie plate and there it was: My Mom's name on the bottom of the pie plate. This means she brought a pie to our house at one time. (and I forgot to return it).
It also reminds me that this pie plate went to the home of friends in need – my Mom was always one of the first to show up. It also went to church potlucks and dinner club gatherings. This piece of tape will stay on this pie plate as long as it will adhere.
Thanks Mom, for all you taught me! By the way – chocolate pie was her favorite desert!
Using an HEB refrigerator crust makes this pie a snap. It is simply making the chocolate custard (using water instead of milk) with 7 ingredients that you probably have in your pantry. Give it a try – even if you have to make your own Mother's day desert – you'll be glad you did!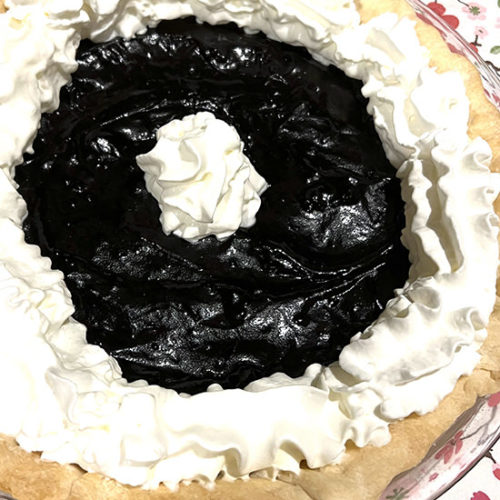 Mom's Chocolate Pie
Ingredients
1

cup

sugar

⅓

cup

baking cocoa (I use dark)

¼

cup

all-purpose flour

¼

tsp

salt

2¼

cups

water

1

tbsp

butter

1

tsp

vanilla extract

1

backed pastry shell - 9"

whipped cream for topping
Notes
I like to use the dark cocoa, but regular is great as well. You can also double the vanilla (which I tend to also do)