In 1690, the Spanish headed to East Texas after news of La Salle's French settlements. Here they encountered the Caddo Indians, who they called "Tejas". This was derived from the Caddoan word for friend and pronounced: "Tay-yas"
Spain forever left its mark on Texas.
Tortilla Española, or Spanish omelet, is hands down the most commonly served dish in Spain. The quintessential tortilla contains potatoes and onions. It is a healthy, and filling meal you can prepare in no time- 10 minutes of prep using just a few ingredients . I like this version because you simply place it in the oven for 30 minutes, then add the beaten eggs and reinsert into the oven for 20 minutes.
I added sliced Spanish Chorizo on top for color and additional taste. You can get creative, adding red peppers, asparagus, and even other proteins including ham or tuna fish.
The omelette may be eaten hot, at room temperature, or cold. In Spain it is commonly served as a tapa at room temperature. As a tapa, it may be cut into bite-size pieces and served on cocktail sticks.
So, prepare it for dinner, serve it with a side salad and pop leftovers in the fridge for snacks or a quick lunch. I really like a tomato salad as a side – perfect for summer!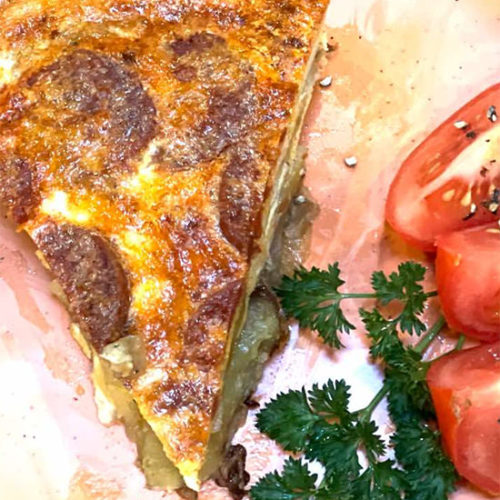 Oven Baked Tortilla Espanola
Ingredients
28

oz

Gold Potatoes, 1/4 inch slices

2

White onions, chopped

½

cup

EVOO

12

eggs

1

tsp

garlic powder

1

tsp

sweet paprika

1

tsp

salt

Pepper to taste

Optional: Add 8 ounces thinly-sliced Spanish chorizo
Instructions
Preheat oven to 375 degrees.

Add the sliced potatoes, diced onions, garlic, salt and pepper, and olive oil into a bowl, mixing well.

Layer the ingredients into a baking dish (I like a cast iron frying pan). Place in oven for 30 minutes

Add the eggs to a bowl and whisk. Stir in the paprika.

After 30 minutes pour the eggs onto the potato and onion mixture. If using Spanish Chorizo, layer on top. Bake for another 20 minutes.

Remove from oven and serve with a salad.