Few aromas in life match that of fresh bread cooking in the oven. And then to follow up, the crispness on the outside and tenderness on the inside of a loaf of freshly made sour dough bread is pure heaven.
Sour dough starter can be found from a friend or even the internet. At first glance, this recipe seems complicated, but once you've done it a couple of times – you'll have it down, Sour dough bread is easily digestible, giving you a feeling of satisfaction but not stuffiness. With fresh butter – truly nothing is better!
Branch out, try it, and you will be hooked. It's truly worth the organization of your time to make it work.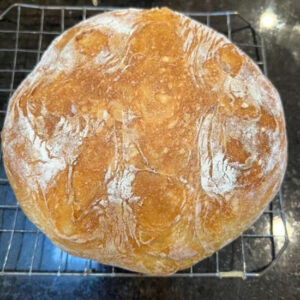 Sour Dough Loaf
Equipment
Large oven-proof pot with lid

Kitchen scale

Parchment paper

Glass jar with lid
Ingredients
50

g (1/4) Cup

active sour dough starter

350

g (1 1/3 C + 2 tbsp

warm water

500

g (4 Cups + 2 tbsp)

bread flour

9

g (1.5 tsp)

fine sea salt
To Replenish Starter
60

g

active sour dough starter

60

g

water

60

g

unbleached flour
Instructions
1. 1. In the Middle of the day before wanting to bake bread: Take starter from the refrigerator. Using a scale with a jar set on top and set to "0". Measure 60 g starter. Take scale to "0" again. Measure in 60 g water and stir. Take scale to "0" and add 60 g flour and stir. Loosely cover and set on counter until 6-10 PM. (I like to set under my under-counter light)
Make the Dough: 
2. In the evening, set a 8 1/2" bowl on the scale and set to "0". Add 50g starter. Set scale to "0". Add 350 g warm water and mix together thoroughly. Set scale to "0". Stir in 500 g bread flour and 9 g or 1 1/2 tsp salt. Finish mixing by hand to fully incorporate the flour. 

3. Cover with a damp towel and let rest for 30 minutes. 

4. Take this time to replenish your starter with fresh water and flour in a new jar. (I print the date on jar)

5. After dough has rested, work into a smooth ball . Grab a portion of the dough and fold it over, pressing your fingertips into the center. Repeat, working your way around the ball until it tightens - about 15 seconds.
Bulk Rise: 
6. Cover the bowl with a damp towel and let rise overnight (8-10 hours) at room temperature - approximately 70 degrees. The dough is ready when it has doubled in size.
Shape:
In the morning, move the dough to a lightly floured cutting board. (I also flour my hands) Repeat the pull and press function from the previous night. Flip the dough over and let it rest 5-10 minutes. Meanwhile line a bowl with a towel dusted with flour (or use a proofing bowl) and lift dough into it, seam side up. 
Second Rise:
Cover the bowl and let it rest for 30 - 60 minutes. Preheat oven to 450 degrees. Cut a sheet of parchment paper to fit the size of you baking pot, leaving excess room around the sides.
Score:
Place the parchment over the dough and invert the bowl to release. Sprinkle th dough with flour and gently rub the surface with your hands. Using the tip of a small, serrated knife or a razor blade, score the dough with an "X". 
BAKE:
Cover dough with lid and bake for 20 minutes. Remove the lid and bake an additional 30 minutes.Remove and let cool for 1 hour. Sourdough is best consumed on the same day it is baked. Store at room temperature in a plastic bag for one day. 
Notes
If we don't consume in one day (which is hard), I slice and freeze. You can also make croutons and freeze. 
This may seem complicated at first glance, but once you've done it a couple of times, it makes sense.