It's tough to find a more place-based culture than Texas. Evidence of that can be found in the comradery akin to family when you meet another Texan in a different state or especially abroad. Simply put, a fellow Texan can make you feel home.
It's no surprise that when President George Bush and his family left for the Oval Office, his family kept Matthew Wendel close. As Mrs. Laura Bush states in the forward of Matthew's recent cookbook: "Offering guests wholesome, delicious, and comforting food is a key ingredient of our Texas hospitality, and it's our way of saying 'Welcome, we're glad you're here'." I could not agree more!
It seems that with Chef "Matty", the Bush family valued a Texan in their kitchen not exclusively for friendship, but to help them share our culture with the world through food. What an amazing partnership and service.
That brings us to Matthew's next chapter. You see, drill down that Texas place-based culture to our universities and allegiances bubble up in conversation like the springs under the headwaters of the San Marcos River. We have enough analogies and full circle moments to fill all the pages of this magazine. So, let's condense. Matthew Wendel is a Texas State Alumni. The stars aligned for him to join Texicureans and the Texas State Alumni Association at the home of Kelly and Beth Damphousse, President and First Lady of Texas State University, respectively. (Eat 'Em Up Cats!")
Matty's Fried Chicken
I had the honor of being in the kitchen with Beth and Matthew as we prepared "Matty's Fried Chicken" from his beautiful cookbook Recipes from the President's Ranch – Food People Like to Eat The last phrase in the title was coined by Laura Bush's mother after enjoying many of his meals while visiting.
Let's set the scene in San Marcos. When I arrived at the Damphousse home, Beth and Matthew were busy prepping a Texas sized feast. I jumped right in the mix. There was salsa, guacamole, salad, biscuits, brownies, cookies, and the star of the show – Matty's Fried Chicken. THAT is the recipe Matthew has graciously agreed to share with Texicureans.
He took my one bane of cooking and turned it into an easy methodology with scrumptious results.  How did the fried chicken turn out?  AMAZING!  The flavor penetrates completely through each piece.
Matthew's full cookbook is published through the White House Historical Association and can be purchased at  https://shop.whitehousehistory.org/products/recipes-from-the-presidents-ranch or on your next visit to the George W. Bush Presidential Center. Visit https://www.bushcenter.org/ to plan your trip. Matthew's book is a curated catalogue you will return to again and again.  Hint: "Matty's Chocolate Chip Cookies" are probably the best chocolate chip cookie I've ever put in my mouth!
Matthew Wendel's Story
"I am a Texan, born and bred." Sound familiar? It's how Matthew starts his book. Southeast of Houston lies the small Texas town of Danbury, where Matthew grew up.
Warm and humble, Matthew exudes his love of cooking.  He's not a trained chef, but he has a strong heart for good food.  Like so many of us, he was influenced by his mother as he snagged alone time with her in the kitchen in a home of nine children.  Matthew dedicates his cookbook to his mom by saying, "Your gentle ways taught me that food can feed the body and nourish the soul".  He is certainly passing that heritage to all of us!
He began cooking for the Bush's in Austin while they were occupying the Governor's Mansion.  When they moved to the White House, they asked him to join them, and he was there every step of the eight years.  This included cooking at Camp David and the Bush's Prairie Chapel Ranch.  "Over the years Matthew, or 'Matty' as we call him, became part of our extended family", says Laura Bush in the forward of his book.
Food is Family. Family is Culture. Culture is History.  Matthew Wendel took food from Danbury to Texas State, to the Governor's Mansion, to the White House and now to the world. His story is a wonderful example of how Texas transcends place.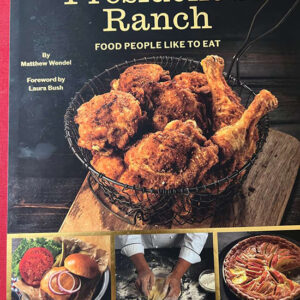 Matty's Fried Chicken
Used by permission from "Recipes from the President's Ranch - Food People like to Eat"
Ingredients
1

Young whole chicken, cut up* (I prefer chicken under 4 pounds)

2

tsp

seasoned salt

2

tsp

garlic powder

2

tsp

ginger powder

2

tsp

paprika

2

tsp

kosher salt

2

tsp

fresh ground pepper

2

cups

flour

1

1 gallon storage bag

vegetable oil, enough for frying
Instructions
In a small bowl, combine spices.

With paper towels, dry chicken pieces very well.

Lay out chicken pieces on a sheet pan.

Season both sides of each piece with the combined spices.

Add remaining spices to flour and pour into paper or plastic storage bag.

In a heavy skillet or Dutch oven, heat oil to 325 degrees.  Oil should not be more than halfway up the side of the skillet.

Add legs and thighs to bag and shake well so that the chicken pieces are well coated with flour.

Shake off excess flour and put in legs and thighs in hot oil.  Turn chicken pieces as they brown.  Dark meat should take about 13 minutes.  Remove pieces to drain on paper towels

Repeat until all the chicken is cooked.  White meat should take 8 to 10 minutes.  
Video
Notes
*I cut up the chicken just as my mother taught me, complete with the wishbone.

 

If you don't want to tackle learning how to cut up a chicken, ask your butcher to do it for you.