The exotic soup that will feel right at home in your kitchen: Pho. Hear me out on this one. The broth is one of those "all day", one lazy Saturday endeavors that pays in big flavor. And, it's really an enjoyable dish to serve your family or to share a cozy evening with friends. Both born and raised in Viet Nam, Lindsey and Victor Price give us a lesson in this delectable soup. They also share their adjustments to Texas culture and give a glimpse into their past life in Viet Nam. AND, they are just a fun couple! Welcome to Lindsey and Victor's kitchen!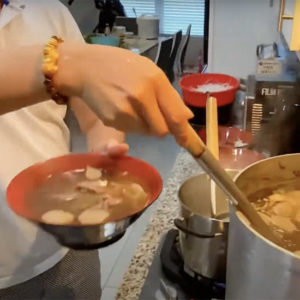 Vietnamese Phở
Ingredients
Aromatics
2

large onions, halved

5

oz

ginger, sliced down the center
Spices
10

star anise

4

cinnamon sticks

4

cardamom pods

3

cloves

1.5

tbsp

coriander seeds
Beef Bones
3

lb

beef brisket

2

lb

meaty beef bones

2

lb

marrow bones (cut to reveal marrow)

15

cups

water
Seasoning
2

tbsp

white sugar

1

tbsp

salt

3

tbsp

fish sauce
Per Bowl
1.5

oz

medium flat rice noodles

1

oz

beef tenderloin, raw, thinly-sliced

3 to 5

brisket slices (used for broth)
Toppings
1

handful

bean sprouts

5

sprigs

Thai basil

lime wedges

finely-sliced hot chili

Hoison sauce

Sriracha
Instructions
Aromatics
Heat a heavy based skillet over high heat (no oil) until smoking

Place onion and ginger in pan cut side down,, Cook for a few minutes until it's charred, then turn. Remove and set aside

Toast Spices lightly in a dry skillet over medium high heat for 3 minutes
Remove Impurities
Rinse bones and brisket then cover with water in large stock pot.

Boil for 5 minutes, then drain.

Rinse each bone and brisket under tap water.
Broth
Wipe pot clean, bring 4 quarts water to boil.

Add bones and brisket, onion, ginger, spices

Add onion, ginger, Spices, sugar and salt - water should just barely cover everything.

Cover with lid, simmer 3 hours up to 8 hours

Remove brisket (should be fall-apart tender), cool then refrigerate for later.

Simmer remaining soup uncovered for 40 minutes

Strain broth into another pot, discard bones and spices. Should be about 10 cups.

Add fish sauce, adjust salt and sugar if needed. Broth should be beefy, fragrant with spices, savory and barely sweet.
Assemble
Prepare rice noodles per packet, just prior to serving

Place noodles, raw beef, and brisket in bowl.

Ladle hot broth over all - beef will cook to med rare

Serve with Toppings on the side
Notes
Brisket adds way more flavor into broth than any bones and other beef like chuck. Left over broth freezes well for months.
Marrow bones can be subbed with more meaty beef bones but soup may lack richness.
Partially freeze (about 30 minutes) beef before slicing thinly. Many Asian markets also will thinly slice for you.