Love tomatoes, colorful peppers, and cucumbers? Gazpacho is the combination of all those combined in an iconic Spanish cold soup. Try it for a great way to chill on hot summer days at lunch or supper.
This recipe elevates the spicy, bright and rich soup with coffee glazed bacon and sour dough croutons. You may even say that they all become best friends in your mouth! After all, what isn't better with bacon on it?
Just save some of that morning coffee and see what happens!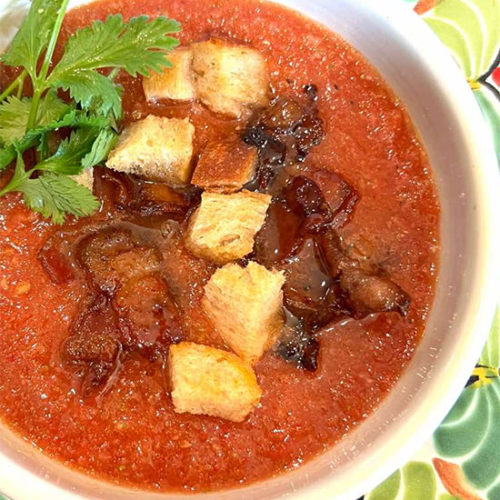 Gazpacho topped with Coffee-Glazed Bacon
Ingredients
Gazpacho
1

organic or hothouse cucumber

1 each

red, orange, and yellow peppers (cored and seeded)

8

plum tomatoes

1

medium red onion, chopped

1

tbsp

chopped garlic

32

oz

organic tomato juice

½

cup

rice or white wine vinegar

¾

cup

Texas EVOO

1½

tsp

kosher salt

1½

tsp

freshly ground black pepper
Sour Dough Croutons
4

slices

sour dough bread cut into 1" square pieces

2

tsp

olive oil
Coffee Glazed Bacon
12

oz

bacon

¾

cup

strong coffee

2

tbsp

maple syrup

pinch

of pepper and salt
Instructions
Gazpacho
Roughly chop the cucumbers, bell pepper, tomatoes and red onions. (Add the garlic to the red onions)

Pulse each vegetable separately in a food processor

Combine in a large bowl and add tomato juice, vinegar, olive oil, salt, and pepper. Chill in fridge for at least a couple of hours.
Sour Dough Croutons
Toss with Olive Oil and bake at 375 for 6 minutes.
Bacon
Cut the bacon into narrow strips about 3 inches long

Heat the pan and place the bacon in the pan, cooking until no longer raw.

Pour in the coffee and maple syrup. Add salt and pepper. Cook until the coffee completely evaporates from the pan and bacon is dark and carmelized.
Video
Notes
To Serve: Pour into individual bowls and top with croutons and bacon.