For a recipe to work, the ingredients must complement each other and stick to a formula. Afterall, there are rules for how to make the dough rise and how to get a smooth sauce. But you and I both know the best recipes do not stick to the formula. The best recipes exude creativity and pull from decades of experience. This month, Texicureans is inviting you into the home of Haley and Easton Smith, both professional ballet dancers. They graciously shared their story, their labor of love shaping The Nutcracker Ballet San Antonio, and a recipe with a twist. Or pirouette?
The Smiths met in the ballet studio in a story measuring up to a movie meet cute moment. He saw her, knew she was the one, and they were on the fast track from there. The Smiths have each individually performed The Nutcracker since they were children and have taken this wealth of experience to choreograph The Nutcracker for Ballet San Antonio.
Haley shares, "Easton and I had such a wonderful time working together in the studio again during the creative process.  Our creative styles complimented each other, and we were always able to keep working and moving forward creatively, loving every minute of it.  We had to edit the musical score, create all the steps for every dancer on stage, choose the props and costumes, create the lighting design, set the music tempos with the conductor, and create all the production cues.  It was a monumental task, but we grew and learned so much through the process and now we get to enjoy seeing the beautiful dancers of Ballet San Antonio perform it every year."
In the kitchen with them, Haley and Easton's passion for ballet and their confidence and praise of everyone at Ballet San Antonio was palpable.
About Ballet San Antonio's The Nutcracker
Ballet San Antonio's The Nutcracker, originally commissioned by Ballet San Antonio for Ballet San Antonio, choreographed by Easton and Haley Smith and with its world premiere on Friday, November 23, 2018. In the 2021-22 season, Sofiane Sylve became the Artistic Director and Director of the School of Ballet San Antonio.
"The Nutcracker that Easton and I created for Ballet San Antonio was inspired by our favorite productions: the country's oldest Nutcracker that we performed with Ballet West by Willem Christiansen and one of the greatest Nutcrackers made by George Balanchine. We have both performed in the Nutcracker every year since we were about 9 years old, and we also drew from those experiences to create an exciting, fast paced Nutcracker that would entertain children and adults alike. The classic story is retold clearly with exceptional dancing and mesmerizing lifts.   New digital sets create a spectacular setting for the dancers and a live orchestra returns this year as well. There are also 140 local children in the show, drawing in the community for a wonderful holiday tradition."
Where: Tobin Center for the Performing Arts
When: Full Length Performances December 2-4 and December 9-11
Dec 2, 2022 – 7:30 pm
Dec 3, 2022 – 2:00 pm
Dec 3, 2022 – 7:30 pm
Dec 4, 2022 – 2:00 pm
Dec 9, 2022 – 7:30 pm
Dec 10, 2022 – 2:00 pm
Dec 10, 2022 – 7:30 pm
Dec 11, 2022 – 2:00 pm
Sensory Friendly Performance
Dec 6, 2022 – 10:00 am (approx. 1 hr.)
Student Performances
Dec 8, 2022 – 9:50 am (approx. 1 hr.)
Dec 8, 2022 – 11:15 am (approx. 1 hr.)
December 9, 2022 – 10:00 am (approx. 1 hr)
Ticket Link: https://www.tobincenter.org/thenutcracker
Tickets can be purchased on the Tobin Center's website (link above), by visiting the Tobin Center's Box Office at 100 Auditorium Circle, or by phone at 210-223-8624. The Tobin Center Box Office is open Monday – Friday from 10 am – 6 pm, Saturdays from 10 am – 2 pm and 2 hours prior to show time on performance days for in-person sales.
Bio: Sofiane Sylve was born in Nice, France, where she studied at the Académie de Dance. She was a Principal dancer with Germany's Stadttheater, Dutch National Ballet, New York City Ballet, San Francisco Ballet and Semperoper Ballett. During the 2020/21 season she became a ballet mistress with the Semperoper Ballet as well as the Artistic Advisor for Ballet San Antonio.  In the 2021-22 season, Sylve became the full-time Artistic Director of Ballet San Antonio and Director of the School of Ballet San Antonio. Sofiane Sylve's full bio can be found at: https://balletsanantonio.org/dancers/sofiane-sylve/
Recipe
Did you know that the Nutcracker is an historical foodie's ballet?  It is said that the 2nd act showcases the 19th century's most precious confections.  At a time of the year when straying from nutrition is most apt – the Smith's recipe for zucchini bread slips a little "green" into your diet! They also offer twists like a vegan option and a chocolate addition to enhance the appeal. Find the recipe on our website texicureans.com
For me, some of the most wonderful moments leading up to Christmas are baking with holiday music playing in the background. Absolutely one of my favorites is the soundtrack to the Nutcracker Ballet.  With every note of Sugarplum Fairy, can't you just imagine throwing in a pinch of cinnamon and dancing around the kitchen? That's what you'll find me doing this holiday season. Ding ding ding ding ding…ding ding ding…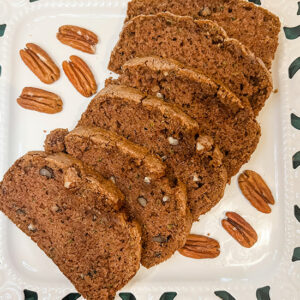 Zucchini Bread
Ingredients
3

Cups

All-purpose flour

1

tsp

salt

1

tsp

baking powder

1

tsp

soda

1

tbsp

ground cinnamon

3

large

eggs

1

cup

olive oil

1¼

cup

brown sugar

3

tsp

vanilla

2

cups

grated zucchini

1

cup

walnuts or pecans
Instructions
Preheat the oven to 325 degrees.  Grease and flour two 8 x 4 inch pans.

Sift flour, salt, baking powder, baking soda, and cinnamon together in a large bowl.

Beat eggs, oil, sugar, and vanilla together in a separate large bowl with an electric mixer until combined.

Add flour mixture and beat well.  Stir in zucchini and walnuts until well combined.  Pour batter into the prepared pans

Bake in the preheated oven until a toothpick inserted into the center comes out clean, about 40 -60 minutes.  Cool in the pans on a wire rack for 20 minutes.
Video
Notes
To make the recipe vegan:

 

substitute organic flax seed for eggs - 1 tbsp flaxseed mixed with 3 tbsp water for each egg.