What began as a Rotary exchange student/host family relationship has turned into an "adopted" mother/daughter love.  Barbara and I have retained close contact, visiting each other for special occasions, and thus creating a close bond.  Recently accepted into the University of Frieburg's Doctoral Program, she also has raised an outstanding son, and she loves to cook! 
Here's Barbara on Austrians and their strudel:
"So there is not really a special occasion for Strudel. It's something you will eat as a desert with your afternoon coffee (you know most Austrians have a coffee break in the afternoon and that's the time they usually eat der Strudel) BUT you can also eat it as a dish for lunch (warm + often with vanilla sauce). They often serve it at coffee places and also at little snack places in skiing areas – so when people take a break from skiing they can eat a warm apple strudel inside (but also restaurants that serve traditional Austrian food will have it as a desert)."
Actual strudel dough is typically not available in Texas, but puff pastry makes a suitable substitute. 
Austrians in Texas:
According to Texas State Historical Association – In 1990 approximately 2,500 Austrians lived in Texas.  Currently the Dallas area boasts an Austrian Dallas – Ft Worth Club to retain traditional food, culture, and language.  Among notable Austrians who contributed to Texas are:
George Erath (1813-1891)– Fought in the Texas Revolution and became a Texas Legislator who played large role in the Annexation of Texas to the United States
George Dullnig (1846 – 1908)– helped establish the San Antonio and Gulf Railroad
Anthony Lucas (1855-1921) – mining engineer, educated in Graz Austria, discovered fabled Spindletop.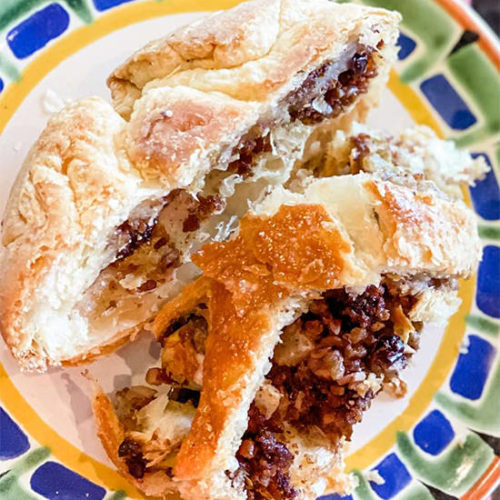 Austrian Apple Struedel with a Texas Twist
Ingredients
¼

cup

raisins or currants

2

organic Granny Smith apples

¼

cup

sugar

1

tsp

additional sugar

1

tsp

vanilla

⅓

cup

pecans

⅓

cup

graham cracker crumbs

1

tsp

rum (if desired)

1

tsp

cinnamon

2.5

tbsp

butter

1

sheet

puff pastry, thawed

1

small lemon

1

egg
Instructions
Preheat the oven to 360F, with the baking sheet inside

Core apples, cut into quarters and loosely chop (1" -2" thin pieces)

Combine the apple pieces, 1/4 cup sugar, rum, lime juice, chopped pecans, vanilla extract, and raisins or currants in a small bowl

Melt the butter in a small pan over low heat. Add the graham cracker crumbs, cinnamon and 1 Tbsp sugar. Stir for 1 minute

Add half of the graham cracker crumbs, mixture to the apple slices

Sprinkle flour on your work surface (I use a silpat mat). Unfold the puff pastry sheet and roll the pastry sheet int a 16 x 12-inch rectangle. With the long side facing you, spread the rest of the graham cracker crumb mixture even onto the middle this of the puff pastry sheet, leaving 2 inches all around the edge.

Spoon the apple mixture in the middle 4 - 5 inches all down the length. Fold the lower half of pastry over the apple mixture picking up the silpat from the bottom. Repeat with the top 1/2 crossing over about 1 - 2 inches. Tuck the ends under to seal.

Pick up with silpat and transfer to hot pan, with the strudel seam on the bottom.

Make 5 -6 slits with a serrated knife across the top and brush with the egg. Bake for 35 - 40 minutes until the apple strudel is golden brown.
Notes
1. Silpat makes this very easy, but a a towel can be used as well.
2. Freezes well - I typically make at least 4 at a time. Then the kitchen is a "floury" mess with 4 times the apple joy. And speaking of joy - take 1/2 of one to a friend 🙂