St. Patrick's Day is a feast with deep cultural and religious roots. Like many other holidays, secular culture has taken it for a ride. Green beer and green beads does not an Irish make.
But who doesn't want an excuse to cook, pour a Guinness, and transport to those verdant fields atop rocky cliffs. Sláinte!
Come along as we begin with a few Irish Texan connections. Careful, don't finish your Jameson too quickly. We still have the main course — an authentic recipe from Chef Mike Morphew, M.C.F.A.
Irish Texans: Quick Facts to Share Around the Table
The Irish were among some of the early settlers in Texas, including Austin's Old Three Hundred.  In fact, so many settled in central San Antonio, the area was referred to as Irish Flats. The towns of San Patricio and Refugio were settled in the early 1800's by predominantly Irish.  In fact, in true Irish fashion, they were established on Saint Patrick's Day – March 17th, 1836.
The Irish fought for Texas freedom – eleven died at the battle of the Alamo and fourteen were counted being massacred at Goliad with Colonial Fannin.  A full one seventh of Houston's army that fought in the Battle of San Jacinto were Irish. Harry McArdle, Irish painter, created portraits of Sam Houston, Jefferson Davis and battle scenes of the Alamo and the Battle of San Jacinto. The Texas State Capitol displays his work.
Other nineteenth century notables are Peter Gallagher, a Texas Ranger and organizer of Pecos County, Samuel McKinney – president of Austin College and John Mallet, first chairman of the University of Texas faculty. Texas remains home to many family lineages who emigrated from Ireland after their "American Wake". Y'all should google that.
Now, for the experience we are thrilled to share with you. We know international treasures are hiding in plain sight among small town Texas. We love nothing more than to find the people and places that make us the best place in the world to be. This time, we went back to La Grange in Le Petite Gourmet's kitchen. Why? Well, to learn from a Chef who cooked for the Queen of England, of course.
Recipe
La Grange is where we found Chef Mike Morphew, M.C.F.A., a UK native who knows and loves Irish pub food. So, how did he get to Texas?  He married a Texan, of course! The pull of the Lone Star State is strong.
Texicureans were treated to a cooking session with Chef Morphew. The star of the show that Chef Mike prepared was Loin of Pork Stuffed with Leeks and Fresh Sage, smothered in a Guinness Reduction. Doesn't the name just make you hungry?
Staying true to his motto that the fewer ingredients in a recipe, the better, the pork loin only uses 5 ingredients, and makes a fabulous presentation with the Guinness Reduction.
The starter to this creation was Curried Parsnip Soup.  Colcannon Potatoes and Cabbage with Caraway and Butter served as sides to the main event.  A desert of Apple and Mixed Berry Crumble with Custard Sauce topped off the evening.
We are grateful Chef Morphew now calls Texas home and was willing to share his time with Texicureans.  With him, he brings a long list of accomplishments that formed his immense knowledge of the culinary arts. He has worked for European hotels and instructed culinary schools. But his personal crowning achievement is working in the royal kitchen and preparing meals for the Royal family.
Texicureans invite you to don your green, invite some friends or family over, and share a simple to prepare Irish Pub meal. The recipes and full video "how to" for the Loin of Pork Stuffed with Leeks and Fresh Sage can be found at www.texicureans.com. There, you can join our recipe club for weekly updates.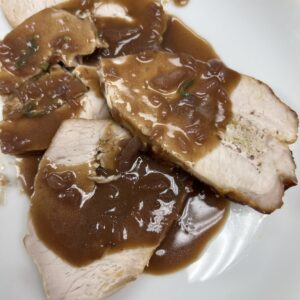 Roasted Pork Loin with Sage and Leeks, Smothered in a Guinness Reduction
A True Irish Pub Main Course
Ingredients
3

Pound

Boneless Pork Loin

1

bunch

Fresh sage leaves

2

Leeks

washed, shredded, cooked in butter until tender

1

cup

Pork trimmings

diced

½

cup

heavy cream

1

egg white

1

Medium onion

chopped fine

1

cup

Guinness beer

1

pack

brown gravy

diluted

1

pint

chicken stock

1

tbsp

oil

salt and pepper

to taste
Instructions
Trim the pork loin and keep trimmings

Make an incision along the side to create a pocket

Rub the pork with salt and pepper

Put the pork trimmings in a processor with chopped sage and egg white and puree well, add the leek and salt and pepper, plus a little nutmeg, stuff this inside the pork loin and tie up, stab with a knife an insert sage leaves in the incisions

Place into a roasting tray and drizzle with oil.

Roast in an oven at 375 till cooked approx. 1.5 hours

Take out and rest the pork

Add the chopped onion to a pan with a little butter, cook for 5 minutes.

Add a little sage and the Guinness and reduce, add a splash of red wine and the stock

Reduce and then thicken with the gravy mix, season with salt and pepper

Slice and serve topped with Guiness reduction.
Video