Potato Latkes – A Family Tradition 
December conjures images of tradition, great food, and the holiday season.  We may not normally have snow here in Texas, but we never fall short of celebrating our family, friends, and the cultural heritage we hold close to our hearts. 
One of the original ethnicities who were early settlers and among the defenders of early Texas freedom, were the Jewish Texans. The Texas Revolution of 1836, the Battles of Goliad and San Jacinto are among those battles.  
Dr. Albert Levy was surgeon to revolutionary Texan forces in 1835, and ended up joining the Texas Navy in 1836.  
The Galveston Movement was an operation between 1907 and 1914 when at least 10,000 Jewish immigrants made the bold move to become Texans.  It was here in this land of opportunity that Jewish business leaders and philanthropists emerged.  Stanley Marcus of Neiman-Marcus, Michael Dell of Dell Computer and Joe Straus, first jewish Speaker of the House in Texas History are a few of the many notables.  
Today, most Jewish Texans are descendants of families that arrived after the Civil War and are Ashkenazi Jews.  Temple Beth-El, founded in San Antonio in 1874 was closely followed by B'nai Abraham in Brenham, Temple Emanu-El of Dallas, and Congregation Beth Israel in Austin.  
Many more were added as the population grew.  
From sunset on December 7th – nightfall December 15th the celebration of Hanukkah will be celebrated in Jewish Texan homes this year.   Lighting of the nine branched menorah is marked by first lighting the Shammash (candle occupying the tallest branch) and adding an additional candle each evening of the celebration, using only the Shammash to light the remainder candles.  
Singing Hanukkah songs, playing the game of dreidel, and eating oil-based foods such as our recipe this month – fried potato latkes are all an historical part of the festivities.  
I caught up with my friend, Gaby Poler's cousin – Valerie Sar-Shalom to learn how to create this easily prepared, economical, and yummy recipe.  Valerie, a Sephardic Jew is a more recent immigrant to Texas, hailing originally from Venezuela. She continues her ancestor's Sephardic traditions with her young family and thereby passing them to the next generation.  Preparing delicious meals together is an integral aspect of her tradition.
It is so much fun to learn from different cultures!  Latkes make a fabulous easy weeknight dish that is quick and easily rewarmed the next night.  Served with sour cream (a nod to including dairy) and applesauce creates a flavorful mouth full of comfort.  And it's only 5 ingredients! 
Subscribe to our youtube channel to view Valerie demonstrating how to create Latkes.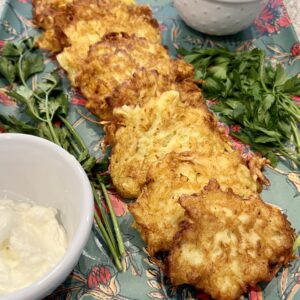 Potato Latkes
A 5 ingredient side dish or main
Ingredients
1-2

russet potatoes

1/2

onion

1 - 2

Eggs

Salt and pepper to taste

Neutral frying oil
Instructions
Peel potatoes, grate them with a food processor or a hand grater.  Squeeze out the excess liquid with a towel.

Chop onion in a food processor

Mix together the potatoes, onions, eggs

Add salt and pepper to taste

Heat about 2 inches deep oil to medium temperature in a frying pan

With a spoon take the mix and drop it on the pan trying to create a circle shape.

Fry on both sides until golden brown

Serve with Applesauce and sour cream on the side.